North Korea Protests Cancellation of Invitation to Davos Forum
by
Nation had registered a `high level' delegation for WEF

Forum says opportunity for dialogue closed by nuclear test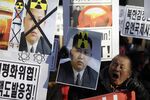 North Korea protested the cancellation of its invitation to next week's World Economic Forum in the Swiss resort of Davos after being told officials wouldn't be welcome because of the regime's fourth nuclear test on Jan. 6.
The isolated nation sent organizers a letter Thursday calling the decision "unjust and irresponsible," according to its official Korean Central News Agency. North Korea had hoped to show its economic progress and seek cooperation with other nations at the forum, KCNA said.
A high-level delegation from the North Korean administration had been registered for the annual meetings, which run from Jan. 20 to Jan. 23, according to Philipp Roesler, a member of the WEF's management board.
Before the test, there "had been some encouraging signals from DPRK for a global dialogue," Roesler, a former German economy minister, told reporters in Geneva on Wednesday. "We decided after the nuclear test that at the moment there would be no opportunity for an international, global dialogue in the spirit of the World Economic Forum."
North Korea says it tested a powerful hydrogen bomb last week, the second nuclear test since Kim Jong Un came to power after his father's death in 2011. The show of force ratcheted up tensions with South Korea and prompted a response from U.S. lawmakers, who voted earlier this week to toughen sanctions against the state, even amid skepticism over the regime's claims that it possesses H-bomb technology.
Before it's here, it's on the Bloomberg Terminal.
LEARN MORE