business
Momentum Darlings Hit Wall in S&P as Hedge Fund Stocks Slide
By and
The 20 companies with the most hedge fund ownership fell 4.4%

All but one stock in a 101-company momentum ETF declined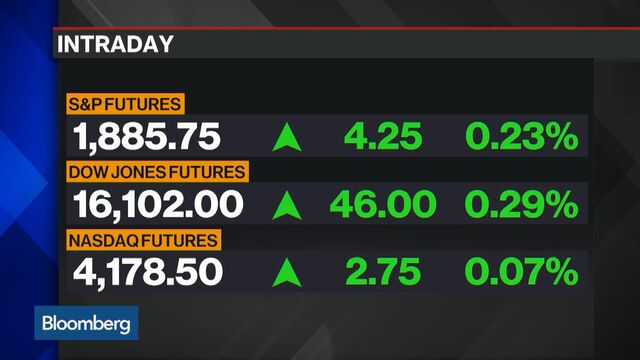 Trades that kept the ceiling from crashing in last year are giving way now, as momentum stocks and others beloved by hedge fund managers lead a plunge that is pushing the Standard & Poor's 500 Index toward its August low.
With U.S. equities sinking the most since September on Wednesday, the 20 stocks in the S&P 500 with the most hedge fund ownership declined even more -- an average of 4.4 percent, data compiled by Bloomberg show. Among the 10 most-owned shares, losses averaged 5.6 percent.

Within an exchange-traded fund tracking momentum stocks, defined as the ones showing the biggest gains in the last six to 12 months, 100 of 101 companies dropped. In all, more than $500 billion was erased from American share prices in the rout as the S&P 500 lost 2.5 percent. The benchmark gauge rose less than 0.1 percent to 1,890.4 at 9:52 a.m. in New York.
Selling accelerated as a rout in junk bonds, oil's collapse to $30 a barrel and the biggest tumble in small-cap stocks since August sent the S&P 500 through 1,900, a level it's closed below only four times in the past 14 months. Losses are snowballing at a time when options data suggests professional investors own fewer hedges than they did last summer and the Federal Reserve has started raising interest rates.
"The exits are narrower in these stocks, it's incredibly difficult to catch a falling knife, and given the level of uncertainty right now it makes it even more difficult to go in and buy," said Benjamin Dunn, president of Alpha Theory Advisors, which works with hedge funds overseeing about $6 billion. "There aren't many places left to hide. A lot of people are using high-yield ETF options to hedge their equity risk, and that's not working today either."
Shares of junk-rated stocks bore the worst of the selling as a basket compiled by Bloomberg of below investment-grade companies dropped 3.8 percent. The group, which includes Chesapeake Energy Corp. and Cliffs Natural Resources Inc., has lost 15 percent since the start of the year, double the S&P 500's loss.
Declines to start the year have derailed trading in momentum stocks, a group that rose 32 percent last year and was the single best strategy for quantitative funds, according to data compiled by Evercore ISI and Bloomberg. The Powershares DWA Momentum Portfolio, an ETF, has decreased 8.4 percent in 2016, exceeding the S&P 500's year-to-date loss of 7.5 percent.
Nineteen of the 20 shares in the S&P 500 with the highest portion of hedge fund ownership fell, according to data compiled by Bloomberg based on the most recent regulatory filings. Williams Cos. plunged the most, erasing 18 percent on growing concerns over an acquisition by Energy Transfer Equity LP, while Autodesk Inc. and Tenet Healthcare Corp. declined at least 6.6 percent. Hedge funds own at least 25 percent of the shares in each company.
"You have to know the profile of the owner base of securities, because they can be extremely liquid and very crowded," said Stan Altshuller, chief research officer at Novus Partners Inc. "When managers get spooked, they de-risk at the same time, and it's very hard to find buyers."
Drugmaker Novavax Inc., which surged 41 percent in 2015, is the worst performer in the Powershares momentum ETF this year, slipping 28 percent. The fund contains Alaska Air Group Inc., which climbed 35 percent last year before falling 16 percent to start 2016. Gilead Sciences Inc., which has the second-biggest weighting in the 101-company ETF, is down 8.6 percent this year after increasing 7.4 percent in 2015.
The selloff that has erased more than $1.6 trillion from U.S. stocks since the start of 2016 is being worsened by quantitative traders influenced by charts, Marko Kolanovic, the New York-based head of global quantitative and derivative strategy at JPMorgan Chase & Co., wrote in a client note on Tuesday. Their impact has also been amplified because of a blackout on share buybacks during earnings season, said Kolanovic.
While the Chicago Board Options Exchange Volatility Index jumped 12 percent on Wednesday, it ended below its level on Friday, when equities declined half as much. Other measures of options prices and volume have been muted during the 2016 selloff compared with levels in August and September.
"The VIX has actually remained fairly contained through this," Peter Tchir, the head of macro strategy at Brean Capital LLC, said in an interview on Bloomberg Television. "It's elevated from its lows of '12 and '13, but we haven't seen this big spike," he said. "Maybe we've become too complacent, so used to buying the dip, that this is the sort of move we needed to get a little bit of fear, get the VIX to spike up and get a real washout."
To Peter Jankovskis of OakBrook Investments LLC, there's a high level of general concern about the state of the economy weighing on stock market sentiment. Investors are worried that turbulence in China's stocks and currency will spread to the rest of the world just as the Fed is increasing borrowing costs have spurred declines in markets in 2016. Still, he doesn't think those conditions warranted Wednesday's selloff.
"There isn't any specific piece of news that's likely to have triggered this," said Jankovskis, who helps oversee $1.9 billion as co-chief investment officer of Lisle, Illinois-based OakBrook Investments. "It's possible that hedge funds need to meet withdrawal requests, and are looking to close out their most liquid positions. That could be why we're seeing this kind of behavior in the broader market indices."
— With assistance by Lu Wang
(
Updates with today's trading in third paragraph.
)
Before it's here, it's on the Bloomberg Terminal.
LEARN MORE