Modi Rolls Out Crop Insurance to Indian Farmers After Droughts
by and
Farmers set to recieve full sum insured for crop losses

Government to subsidize insurance premium without limit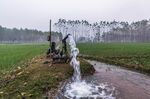 India will boost spending on insuring crops against damages from droughts and floods after the first back-to-back shortfall in monsoon rains in three decades cut rice, cotton and soybean harvests.
Under a new crop insurance plan approved by Prime Minister Narendra Modi's cabinet, farmers will pay only 2 percent of the premium for monsoon-sown crops and 1.5 percent for the winter crops, Agriculture Minister Radha Mohan Singh told reporters in New Delhi on Wednesday. Government spending on the crop insurance will increase almost three-fold to 77.5 billion rupees ($1.2 billion) in the year through March 2019 from 28.2 billion rupees in 2015-16, the Press Information Bureau said in a statement.
A swathe of India faced a drought this year because of the below-average monsoon rainfall, wilting crops and cutting water levels in the nation's main dams. An efficient crop insurance is key to minimizing farmers' losses from droughts, flooding and hailstorms as about 70 percent of the nation's 1.3 billion people live in rural areas and depend directly or indirectly on farming for a living.
"There is extreme uncertainty in cropping, the rewards are low," D. Jayaraj, a professor with Madras Institute of Development Studies, said by phone from Chennai. "Given that kind of a situation I think crop insurance is an important thing. Whenever there is excess rainfall, the crops get destroyed and whenever there is a shortage of rainfall the crops get destroyed."
The new insurance plan will replace two existing programs and will be rolled out for crops from this year, Singh said. The government targets to increase insurance coverage to 50 percent of the nation's total cropped area in the next three years from about 23 percent now, he said.
India is the world's second-largest producer of rice, wheat and sugar cane and the largest grower of cotton.
Before it's here, it's on the Bloomberg Terminal.
LEARN MORE