Merkel Fires Back at Opponents of Her Open-Door Refugee Policy
by
Europe must be able to take in a million Syrians, Merkel says

Members of chancellor's party start border-controls petition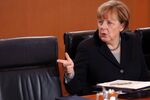 Chancellor Angela Merkel fired back at a growing chorus of critics of her open-door refugee policy, saying the European Union isn't pulling its weight as it bickers over how to handle an influx of more than a million refugees.
Merkel on Wednesday cited examples of countries that have shouldered much larger burdens to help those fleeing war-ravaged Syria -- pointing to Lebanon and Jordan, which have taken in refugees amounting to as much as a third of their populations, as well as Turkey, a nation of 75 million that has sheltered more than 2 million Syrian refugees.
"If a continent like Europe with 500 million people is not capable of taking in one million Syrians, perhaps temporarily, then that is not in line with our values," Merkel said in a speech in the southern German city of Freiburg.
As 1.1 million refugees flooded into Germany last year, the chancellor has implored European Union allies to share the burden more equitably with an EU-wide distribution system. The proposal has met with resistance, including open hostility from some eastern European governments. After a wave of sexual assaults in Cologne and other cities on New Year's Eve, the German leader has also been confronted with public outrage at home over the incidents, and renewed frustration from within the ranks of her own party.
A group from Merkel's Christian Democratic-led governing bloc began a petition demanding that migrants from safe-origin countries seeking asylum, such as those from Balkan nations, must be rejected at the border, Bild newspaper reported. So far more than 40 of the 311 lawmakers in Merkel's faction have signed, Bild said.
Even though it'll be a "task of the century," Europe's main priority must be to tackle the root causes of the refugee crisis, helping to stabilize regions from which migrants flee, Merkel said in the speech.
Before it's here, it's on the Bloomberg Terminal.
LEARN MORE