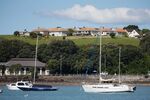 New Zealand's five-year housing boom could be drawing to a close.
Property research company Quotable Value said on Wednesday that annual house-price gains eased to 14.2 percent last month, from 15 percent in November, which was the fastest pace in almost 10 years. The data lend some support to the central bank's December forecast that property price growth would peak about now and then slow sharply.
The Reserve Bank of New Zealand predicts house-price inflation will grind to a near halt by the end of 2018 because of slower economic growth, waning immigration and increased housing supply.

"The weaker economy, in my mind, will be the key that will restrict the housing market," said Dominick Stephens, Westpac's New Zealand chief economist in Auckland, the epicenter of the property boom. If anything, "the housing market outlook in the very near term is looking a little weaker than the Reserve Bank had it pegged in December."
A cooling market may embolden RBNZ Governor Graeme Wheeler to resume cutting interest rates this year to push inflation back into the 1 percent to 3 percent target range after he eased four times in 2015. The benchmark currently stands at a record-low 2.5 percent.
Wheeler warned last year that surging Auckland house prices posed a financial stability risk and imposed new rules on Nov. 1 requiring investors in the city to have a deposit of at least 30 percent of a property's value to qualify for a mortgage. The government has also said it will apply a capital-gains tax to investment properties sold within two years of purchase.
There are signs those measures are starting to bite: While Auckland prices increased 4.1 percent over the past three months, they gained just 0.2 percent in December, Quotable Value said today.
Still, the central bank has been wrong on housing before. A year ago it said the boom had already peaked and that price gains would slow to an annual 3.3 percent by December 2015.
"The peak period of house-price appreciation might be behind us, but we're still expecting reasonably strong gains over the course of the year," said Chris Tennent-Brown, an economist at ASB Bank in Auckland. "We've still got very low mortgage rates and also very strong migration, which is keeping demand up at a time when supply is pretty slow."
Before it's here, it's on the Bloomberg Terminal.
LEARN MORE