Iran Terrorism Award Clash Divides U.S. High Court Justices
Greg Stohr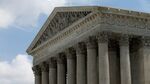 U.S. Supreme Court justices appeared to be divided over a bid to collect $2 billion from Iran's central bank in a case that asks whether Congress went too far in trying to help American terrorism victims.
Hearing an hour of arguments Wednesday, the justices gave a generally favorable audience to 1,300 people battling Iran's Bank Markazi. The group includes victims of the 1983 Beirut Marine barracks bombing and the 1996 bombing of Khobar Towers in Saudi Arabia, as well as family members.
The victims are trying to collect legal judgments they won when Iran didn't defend against accusations of responsibility for the bombings. The group is targeting Iranian assets originally held in a Citigroup Inc. account in New York.
The issue for the court is whether Congress overstepped its authority by passing a 2012 law that said the assets in the account could be seized to pay the judgments in the case.
Several justices said Congress wasn't doing anything out of the ordinary. Justice Stephen Breyer, a former congressional aide, pointed to Congress's longstanding practice of passing "private bills" to help particular people.
"It acts all the time on individual matters," Justice Antonin Scalia said.
Chief Justice John Roberts, however, said the law might violate the constitutional separation of powers by dictating the outcome of a specified court case.
'Our Job'
"When there is a case, Article III says that's our job," Roberts said, referring to the part of the Constitution that set up the judiciary.
The lead plaintiff in the case is Deborah Peterson, whose brother, former U.S. Marines Captain James Knipple, was killed when terrorists bombed the military barracks in Beirut in October 1983.
The case comes at a sensitive time for U.S.-Iranian relations. On Wednesday, Iran released 10 U.S. sailors it detained after their boats strayed into Iranian waters. The U.S. Defense Department said the two boats had lost contact with the Navy and that there was no indication the sailors were harmed during their detention.
Iran also is perhaps within days of winning a lifting of international sanctions in return for curbing its nuclear activities. In recent months, pressure has grown in Congress to impose additional sanctions on Iran for its recent ballistic missile tests.
The case is Bank Markazi v. Peterson, 14-770.