GoPro Shares Nosedive as Demand Slumps for Action Cameras
by
Maker of Hero cube faces concerns it's a one-trick pony

CEO Woodman loses billionaire status after stock plunges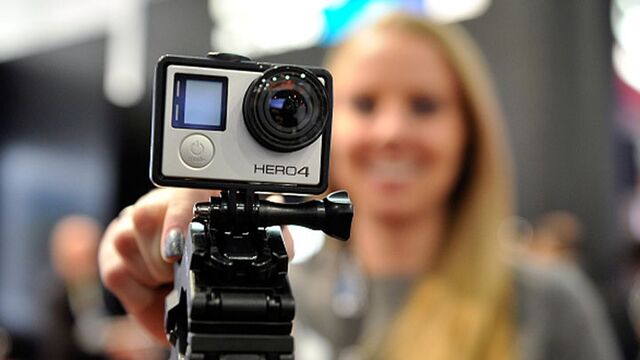 Shares in GoPro Inc. tumbled Thursday after news of disappointing holiday sales and job cuts renewed concerns the action-camera company is too focused on a single suite of products.
It's been a rocky ride for GoPro over the last year: the company tumbled 72 percent in 2015 amid questions over its product mix and signs of slowing growth and increasing competition. The stock dropped 15 percent to $12.48 at the close in New York, the biggest single-day decline since Oct. 29. The company's market value has plummeted to less than $2 billion, from a peak of almost $12 billion in October 2014.

GoPro was founded in 2002 by Chief Executive Officer Nick Woodman, 40, after a surfing trip to Australia during which he was hoping to capture quality action shots. The company's largest shareholder, Woodman was also the highest paid U.S. CEO in 2015 with a package worth $287.2 million. After Wednesday's stock plunge, his compensation dwindled to $71.4 million, according to data compiled by Bloomberg, while his net worth tumbled to about $850 million from $1.6 billion in September.

The demand shortfall for the wearable cameras heightens pressure on Woodman to pivot swiftly into new products, such as drones, while stepping up the hunt for new markets globally.
Once the darling of investors, the company is facing concerns that people will start to rely more on their smartphones to record and share their outdoor and sporting exploits, rather than spending $200 to $400 for GoPro's Hero cube-shaped cameras. GoPro is now seeking to generate revenue from videos created by extreme-sports enthusiasts.
"This is absolutely indicative of the one-trick pony story," said Andrew Uerkwitz, an analyst at Oppenheimer & Co. "The software hasn't been updated. Over the last 18 months they only launched two cameras and both performed poorly."

GoPro said fourth-quarter revenue will be $435 million, well below the average analyst estimate of $510.9 million, according to data compiled by Bloomberg. Full year revenue is seen at $1.6 billion, compared with the prediction for $1.69 billion. The job cuts will result in $5 million to $10 million in restructuring expenses, GoPro said.
Stiff competition from Apple Inc.'s iPhone and other smartphones, however, isn't about to go away. GoPro is looking to diversify sales, and its new drone, named Karma, is slated for release this year. Investor interest was briefly stoked in December when FBR & Co. said it could be on Apple's list of potential acquisition targets.
"The drone entry is a new revenue stream but they face strong competition," said Shebly Seyrafi, managing director at FBN Securities. "The question for investors is how patient are they with a company that doesn't have a material catalyst for another six to nine months."
GoPro also lost Zander Lurie, who ran the company's entertainment efforts and was working on ways to leverage the thrill-seeking video content from camera users into another source of revenue. Lurie will become CEO at SurveyMonkey Inc. later this month but will join GoPro's board.
Before it's here, it's on the Bloomberg Terminal.
LEARN MORE