Gatwick Boosts New-Runway Case as Single Strip Serves 40 Million
by
Second-busiest London airport lifts 2015 passenger tally 5.6%

Long-haul jump buoys view that discount base would work as hub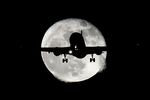 London Gatwick airport's passenger tally surged beyond 40 million last year, with a jump in long-haul flights from its sole runway bolstering claims that the facility could become a major hub if granted the right to build a second landing strip.
Passenger numbers at Gatwick, which was already the world's busiest single-runway airport, advanced 5.6 percent in 2015, outpacing a 2.2 percent gain at London's main Heathrow hub. Both facilities are effectively operating at the limits of existing infrastructure, with little scope for more flights.
U.K. Prime Minister David Cameron said in December that the government accepts that southeast England needs more airport capacity, while postponing a decision on where a runway should be built until after London's mayoral election in May. The delay has given Gatwick fresh hope after a state-appointed committee last year endorsed Heathrow as clearly the best site for growth.
Long-haul services spurred gains in 2015, Gatwick said Wednesday, led by a 12 percent jump on North Atlantic routes, with Las Vegas and Los Angeles boosting passenger numbers 50 percent in December. Toronto also piled on travelers, as did services to winter sun destinations including Goa, Jamaica and Barbados.
Chief Executive Officer Stewart Wingate said Gatwick, the main base for top U.K. discount carrier EasyJet Plc, as well as British Airways holiday flights, has had 34 months of growth, underling its expansion case. The airport offers a path to adding capacity that's "legal, affordable, cleaner and quieter," he said.
Heathrow, which has operated close to the capacity of its two runways since the start of the decade, said Monday that its passenger total increased to just short of 75 million in 2015 as airlines used bigger jets to beat the flight cap.
The state commission on airports concluded that a twin-hub system would sacrifice the benefit of aggregating flights, making new routes less viable.
Before it's here, it's on the Bloomberg Terminal.
LEARN MORE