Europe Sees No Letup in Refugee Crisis Amid January Surge
by and
Arrivals running at triple the pace of last year's influx

Merkel pushes back against critics urging closed borders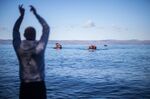 The number of refugees entering Europe in the first 10 days of 2016 is already three times the level in all of January 2015, signaling no letup in the pressure facing the region's leaders amid the biggest wave of migration since World War II.
QuickTake Europe's Refugee Crisis
The influx across the Mediterranean Sea to the European Union from Turkey, the Middle East and North Africa reached 18,384 through Jan. 10, according to the United Nations refugee agency. That compares with 5,550 last January.
"This year, these weeks, the coming months must be dedicated to delivering clear results in terms of regaining controls of flows and of our borders," European Commission Vice President Frans Timmermans told reporters in Brussels on Wednesday after discussing the latest data with EU commissioners.
Turmoil in Syria and across the Arab world triggered an influx of more than 1 million people arriving in the EU last year. Faced with migration in such unprecedented numbers, governments in the 28-nation EU have reintroduced internal border checks, tried --and failed -- to share refugees among one another and defended their policies amid anger at violence allegedly perpetrated by the recent arrivals.

As refugees continue to flow north through eastern Europe, German Chancellor Angela Merkel's government is seeking to make it easier to expel asylum seekers who commit crimes, a response to outrage among the public and within her party bloc at alleged mass sexual assaults in Cologne on New Year's Eve. The Interior Ministry said 22 of 32 suspects are asylum seekers.
Swedish Prime Minister Stefan Loefven said his country faces the greatest humanitarian challenge in its history amid media reports that police kept quiet about assaults by immigrants on young women at a festival in Stockholm.
Merkel fired back at critics of her open-door policy, saying the EU isn't pulling its weight amid a global refugee crisis. She cited Lebanon, Jordan and Turkey as countries shouldering bigger burdens to help people fleeing the civil war in Syria.
"If a continent like Europe with 500 million people is not capable of taking in 1 million Syrians, perhaps temporarily, then that is not in line with our values," Merkel said in a speech at Freiburg, Germany, late Wednesday.
Even though it'll be a "task of the century," Europe's priority must be to tackle the root causes of the refugee crisis, helping to stabilize regions from which migrants flee, Merkel said.
EU Disarray
The number of refugees entering the EU increased month-on-month from January 2015 until hitting a peak of 221,374 in October, according to the UN agency. The level fell back to 118,445 last month as bad weather deterred people from making the journey. Almost a third of those arriving are children.
This year, 49 people have died or are missing having attempted to cross into Europe.
A commitment by EU countries in September to spread the resettlement of 160,000 refugees is in disarray. As of Jan. 12, they have managed to relocate just 215.
EU countries need to work together to tackle the "root causes" of the refugee influx, Timmermans said. Work must also step up on "returning those who have no right to international protection."
Before it's here, it's on the Bloomberg Terminal.
LEARN MORE