EU Moves to Discipline Poland for Abridging Democratic Rules
by
Ruling party suspected of politicizing high court, media

Brussels announcement likely to fuel nationalist backlash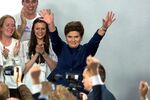 The European Commission took a first step to discipline Poland's new ruling party for seizing heightened control over the state, fueling a debate about whether eastern Europe is slipping back into its authoritarian past.
Risking a nationalist backlash from Warsaw, the commission said it will assess whether the Law & Justice party went too far in ramming through laws that politicize the constitutional court and national broadcaster after returning to power in October.
"Our aim is to solve these issues, our aim is not to accuse, to go into a polemic," Frans Timmermans, commission vice president, told reporters on Wednesday in Brussels after Poland became the first country to face an assessment under the EU law.
While the commission opened only a "preliminary" dialogue on a future disciplinary procedure, that distinction may be lost on Polish leaders who have bashed the European Union's Brussels institutions and reopened historic wounds with Germany.
Absolute Majority
Founded on the rubble of World War II in the west and expanded to eastern Europe after the overthrow of Soviet control there, the EU sees itself as a peace project dedicated to Enlightenment values of democracy and pluralism.
It also -- unlike other international organizations -- has federal trappings with many economic, regulatory and foreign policies decided jointly, some outsourced to the Brussels administration, and a supreme court to oversee it all.
Law & Justice's sin, in the eyes of mostly western critics, was to pass legislation undercutting the independence of the high court and public broadcaster after winning an absolute majority, a rarity in European parliamentary systems.
"I will fight for Poland's good name with full determination," Prime Minister Beata Szydlo said earlier Wednesday in Warsaw. "Don't count on us to carry out Poland's foreign policy while kneeling."
Rising Nationalism
Behind her is a party apparatus headed by Jaroslaw Kaczynski, a former prime minister and brother of a Polish president killed in a plane crash in 2010 over Smolensk, Russia, that some in Law & Justice see as a Kremlin assassination plot.
Besides their suspicions of Russian President Vladimir Putin and European agencies in Brussels, the new Polish leaders have picked rhetorical fights with Germany and revived historic caricatures. The main country spared is the U.S., which it sees as its ultimate protector.
Judgments of the new Polish laws and the government's intentions will play out against the Europe-wide backdrop of rising nationalism, stoked especially in the east's more ethnically uniform societies by opposition to immigration.
The Polish question is also entangled with the west-east wealth gap, accompanied by a heavy dose of partisan politics.
In Hungary, Prime Minister Viktor Orban has faced similar criticisms for pursuing one-man rule, but his affiliation with the pan-European grouping of center-right parties has brought him a modicum of political cover.
Rule of Law
Poland's Law & Justice party isn't part of that grouping, leaving it without mainstream allies as it fights to prove its democratic credentials.
On Wednesday, the commission started a three-stage process -- under a "rule of law framework" introduced in 2014 -- that relies on the power of persuasion to restore checks and balances to Poland.
In a letter to Warsaw obtained by Bloomberg, Timmermans questioned the rush to pack the high court with Law & Justice faithful and said it's now "more difficult" for the court to review acts of Poland's parliament.
Poland's first reaction was to play down the inquiry as EU business as usual. Speaking to reporters in Warsaw, government spokesman Rafal Bochenek said Poland welcomes the "standard dialogue" with the commission.
An attempt by Law & Justice's critics to punish Poland by stripping it of the right to vote on EU decisions faces serious hurdles. Even starting that discussion requires four-fifths of the member states to go along, and imposing the penalty requires unanimity. Hungary's Orban has pledged to stand in Poland's corner to ward off any sanctions.
Before it's here, it's on the Bloomberg Terminal.
LEARN MORE