Dip Buyers Missing in Europe Risks Seven-Year Rebound Trade
by
Rally trend after weekly slumps wasn't always true before 2009

Traders are betting on more stock swings with no Fed support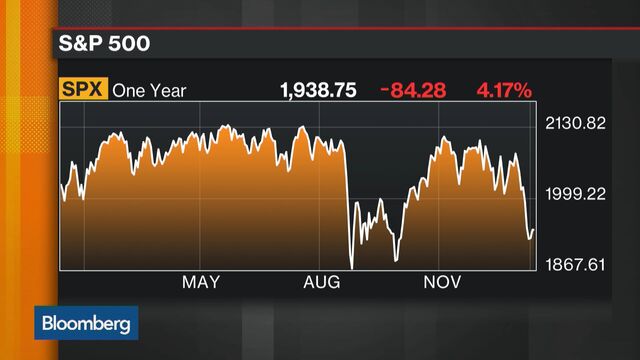 For seven years, every time European stocks tumbled as much as they did last week, the result has been gains for bulls who stuck around. Something has changed that could threaten the cycle.
Yes, valuations are around where they were when a more than 25 percent rally began a year ago. Yes, economic indicators have been beating forecasts. And yes, since 2009, every Euro Stoxx 50 Index weekly drop that exceeded 7 percent led to a rally of 16 percent on average in the following three months.
This time, though, Federal Reserve support is gone, and before its aggressive stimulus came into the picture, rebounds following slumps happened only half of the time.

Stimulus has been among the main drivers of confidence for stock investors, helping global equities gain as much as $47.8 trillion in value. While the European Central Bank's quantitative-easing program is still in full swing, disappointment over President Mario Draghi's update triggered the biggest December plunge since 2002, just as the Fed increased its interest rates amid growing concerns that China's slowdown will hamper the global recovery.
"Draghi's QE is not quite enough for a strong European rally," said Kevin Lilley, who manages European equities at Old Mutual Global Investors in London. His firm oversees about $32 billion. "It's happening just as the Fed is pulling away, so it's not exactly fresh support for markets. We're just transferring from one side to the other, with the added ingredient of China's slowdown getting in the way of a smooth transition."
After a rebound on Tuesday, the Euro Stoxx 50 closed 20 percent below its high in April. The gauge added 0.3 percent today, paring gains of as much as 2 percent in afternoon trading. UBS Group AG said 80 percent of the indicators it tracks -- ranging from options trading to an investor survey and sector rotation trends -- are more bearish than before the region's QE program started last year, according to a Jan. 8 note.
Since 1987, the Euro Stoxx 50 has slumped 7 percent or more in 16 weeks. While all four instances after February 2009 led to rallies in the next three months, looking further back to periods that included the 1987 crash, the dot-com bubble burst and the 2008 financial crisis offers a mixed picture. European shares rebounded only six times in the three months following such weekly plunges.
Banque Bonhote & Cie.'s Jean-Paul Jeckelmannremains optimistic. He started buying equities again this year, focusing on stocks that have been hurt the most, such as German carmakers and luxury-good companies Burberry Group Plc and Cie. Financiere Richemont SA, as well as defensive stocks like drugmaker Sanofi.
"I'm not sure whether we have found the bottom yet, but things are going to move in the opposite direction in the not-to-distant future," said Jeckelmann, who helps manage $1.5 billion in equities as Banque Bonhote's chief investment officer in Neuchatel, Switzerland. "The recovery isn't solid, but it's getting better and we get the feeling we're getting out of the woods."
Signs of an improving European economy have been rolling in. Recent unemployment and manufacturing data beat projections, and economic confidence is at the highest it's been since 2011. Analysts project annual profit gains for Euro Stoxx 50 companies of more than 4 percent through 2018, and strategists have largely remained bullish on the region's shares.
Yet the recent wave of selling sent Euro Stoxx 50 valuations back to where they were a year ago. As of Tuesday, the measure traded at 12.9 times its members' projected earnings, or 22 percent lower than at its peak in April. And investors are preparing for more volatility, with a measure tracking expectations for equity swings up 29 percent this year.
"You can say that Draghi has been a bit unlucky with the timing of QE, or even behind the curve when he started," said Peter Dixon, Commerzbank AG's global equities economist in London. "There are limits to what central banks can do to markets. Yes, they can provide the liquidity, but if there are these other risks going on in the background, then that is bound to take the edge off."
Before it's here, it's on the Bloomberg Terminal.
LEARN MORE