Decision-Day Guide: Bank of Korea Meets as China Roils Markets
by
All but one economist forecast central bank won't change rates

BOK will also update its forecasts for growth and inflation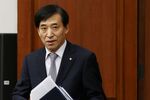 The Bank of Korea's board convenes its first policy meeting of 2016 on Thursday amid turmoil in global markets sparked by China's slowing economy and the slump in oil prices.
With all but one of 16 economists surveyed by Bloomberg predicting that the central bank will keep the key rate at a record low 1.5 percent, the focus will be on the BOK's latest projections for economic growth and inflation, as well as Governor Lee Ju Yeol's views on international developments. Australia & New Zealand Banking Group Ltd. was alone in forecasting a rate cut to 1.25 percent.
Recent comments by Lee suggest that the BOK sees no immediate need to ease rates. Still, some economists are unswayed and predict further easing within the next couple of months.
Lee said Dec. 23 that analysts who are projecting a rate cut in 2016 seem to have "different interpretations" of the bank's new 2 percent inflation target, and added that it's not a goal to be achieved in the short term.
The BOK will announce its policy decision about 10 a.m. in Seoul, with a statement on the decision following shortly. Governor Lee usually mentions the revised growth and inflation outlook during a press briefing that starts at 11:20 a.m. A detailed statement on the revisions is released at 1:30 p.m.
Here are the key points to watch:
Revised Outlook
The BOK projected in October that the gross domestic product will increase 3.2 percent in 2016 and consumer prices will rise 1.7 percent. Lee said after the Dec. 10 rate decision that falling oil prices add "downward pressure" to the central bank's inflation forecast.
A significant downward revision in growth and inflation projections may bolster expectations of a rate cut within the next several months. In a survey conducted Dec. 11-16 on economists' longer-term projections, eight of 26 forecast a cut within the first quarter of 2016. Still, with incoming finance minister Yoo Il Ho saying this week that the economy can expand 3.1 percent in 2016, any revisions to the growth estimate are likely to be minor.
The BOK also will release its initial estimates for economy in 2017.
China, Fed Risks
Thursday's press briefing will be the first by Lee after the Federal Reserve raised its benchmark interest rate last month. While policy makers have said the tightening was expected and unlikely to affect the Korean economy, a reversal in the U.S. and Korea's longer-dated sovereign yields has heightened capital outflow risks from the bond market. South Korea is already seeing outflows from the main Kospi stock index, and further withdrawals by global investors would exacerbate volatility.
To what extent Korean authorities can tolerate won weakness is also of interest. The won fell to more than a five-year low this week. While some weakness is welcome as it can boost exporters' exchange rate competitiveness, policy makers have pledged "smoothing operations" against excessive currency movements in one direction.
Lee also may express his views on risks from a weaker yuan and slower growth in China. As Korea's biggest trading partner, China's troubles have already started affecting exports. Korea's shipments to China fell almost 17 percent in December from a year earlier, larger than the near 14 percent slide in overall shipments.
Increased Communication
The BOK said in its 2016 monetary policy direction statement that the board will seek to strengthen communication of its monetary policy. The bank will release the names of any dissenters on the day of the rate decision. The BOK previously released the number of dissenters on the decision day, with names released in minutes a couple weeks later.
Before it's here, it's on the Bloomberg Terminal.
LEARN MORE