Dallas Fed's Kaplan Says Market Swings May Not Reflect Economy
by
Policy makers can't overreact to market moves, Kaplan says

Kaplan says that he would have `bias' toward normalization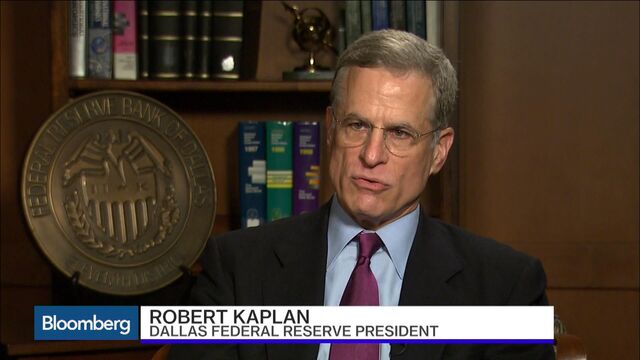 Federal Reserve Bank of Dallas President Robert Kaplan said that while policy makers are watching stock-market swings, the moves may not reflect the underlying economy and officials shouldn't overreact.
"This has been a very tough start to the year," Kaplan said Wednesday in an interview on Bloomberg Television with Michael McKee. "You've got to watch these market moves, but you've got to realize that they may or may not reflect what's going on with the underlying economy in the United States."
The Fed is gauging progress toward its dual mandate of stable inflation and maximum employment as it weighs when to raise interest rates again, having lifted the federal funds rate in December for the first time since 2006. The decision on a second increase may be complicated by gyrations in global equity markets and weakness abroad, including in China.
"I would have a bias to want to move toward normalization," Kaplan said. "It comes with some risk. Every time we increase the federal funds rate, we're going to have to watch and see what the impact is."
Kaplan, a former Harvard University professor who took over as head of the Dallas Fed last year and will vote on policy in 2017, said that he expects to be a centrist, rather than an inflation-focused hawk or easy-policy-preferring dove.
'Reasonable' Case
Fed policy makers expected four 25-basis point increases in 2016 as of their December meeting, based on their summary of economic projections from that meeting. In the interview, Kaplan said three to four rate increases this year is a "reasonable base case" for the Fed.
Kaplan also said that there may still be slack left in the labor market and that the jobless rate can sink further before stoking inflation.
"I will be watching that very closely to see if there is evidence of inflation picking up," Kaplan said. He also said U.S. output expansion should be between 2 and 2.5 percent in 2016, even as the rest of the world experiences what he characterized as "sluggish" growth.
Kaplan said the hit to growth for commodity-exposed countries including Venezuela, Brazil and Russia will probably continue into 2016. China is dealing with issues that are structural rather than tied to the business cycle, he said, and the world is going to "have to get used to" lower rates of Chinese growth.
Before it's here, it's on the Bloomberg Terminal.
LEARN MORE