Corus Faces Prospect of Credit-Rating Cut on Shaw Acquisition
by
Debt load will exceed bounds of its current rating, S&P says

Differing views differ on how far company's leverage can fall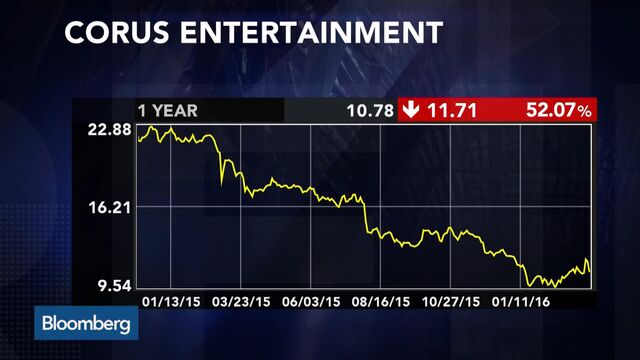 Corus Entertainment Inc. faces the prospect of a lower credit rating and higher borrowing costs as it adds to its debt load to buy Shaw Communications Inc.'s media business.
The C$2.65 billion ($1.85 billion) deal could push Corus one credit grade lower than its current BB+ rating, according to Standard & Poor's analysts led by Stephen Goltz in a note Wednesday. They said a fragmenting audience and falling advertising revenue could more than offset the stronger market position, scale and efficiency the deal will bring for the media production company.
Financing for the deal will include C$71 million in Class B shares, a C$2.3 billion loan arranged by Royal Bank of Canada, and C$560 million in temporary loans that will eventually be replaced with new bonds and an offering of rights to buy its widely traded Class B shares. Company management said on a call with analysts that the split between bonds and shares replacing the temporary loan would be half and half. Part of the proceeds of the permanent bank loans will be used to pay off the C$550 million of bonds Corus currently has outstanding, the company said in a statement announcing the deal.
Increased Leverage
The company said in a presentation it expects the deal will push its ratio of debt to earnings to four times, with a plan to bring that down to below three times in two years. S&P's Goltz wrote he expects the deal to push leverage above four times, and while it could decline below that ratio by 2018, it would still be high for its current rating.
The implied borrowing costs for Canadian companies that share Corus's BB+ rating is about 3.7 percent, compared to 6.4 percent for firms with a rating one level lower at BB, according to Bank of America Merrill Lynch data.
For Shaw, the deal will help finance its C$1.6 billion purchase of Wind Mobile Corp., Canada's fourth-largest wireless carrier, and provide it with a war chest as the cable provider in Western Canada seeks to become a national wireless powerhouse. The country's top three wireless carriers now control 90 percent of the market.
Before it's here, it's on the Bloomberg Terminal.
LEARN MORE