China, Housing, Biotech: What's at Stake in Taiwan's Election
by , , and
Opposition DPP trying to win both presidency and legislature

Result could test China ties and propel domestic policy shift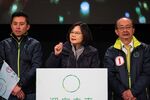 As many as 18.8 million voters will head to the polls on Taiwan this Saturday to pick a new government. The result, which could see the opposition Democratic Progressive Party capture both the presidency and the legislature for the first time, could make history, shake markets and aggravate an old point of strife between China and the U.S.
The election pits DPP Chairwoman Tsai Ing-wen -- making her second attempt to become the island's first female leader -- against New Taipei City Mayor Eric Chu, head of the ruling Kuomintang. The KMT is fighting to stay in power and protect President Ma Ying-jeou's legacy of flourishing ties with Communist Party leaders in Beijing amid local dissatisfaction over slow growth and stagnant wages.
The DPP is also trying to secure a majority on the 113-seat Legislative Yuan and leave the KMT and its allies shut out of power for the first time since Chiang Kai-shek led them across the Taiwan Strait during the the Chinese civil war. While Tsai pledges to maintain relations with Taiwan's long-time rival, the DPP charter officially supports independence from the mainland, something Beijing would consider fighting words.
Tsai promises to build a professional government focused on things such as reining in housing costs and expanding the biotechnology industry. Chu, who only entered the race after the KMT abandoned its first nominee in October, has vowed more policies to help the younger generation get a greater share of Taiwan's economic success.
Here are some ways this changing of the guard might affect business:
China Trade

Taiwan banks may gain less from yuan internationalization if the DPP wins the presidential election, as China may slow approvals for lender applications for the currency's clearing and financial products, according to Bloomberg Intelligence's Francis Chan.
The mainland buys about 40 percent of Taiwanese exports, with trade supported by 23 cross-strait agreements since Ma came to power. A deal that would open the two sides to each others' services sectors has been languishing since student protesters wary about increased China ties occupied the legislature in 2014. Strong ties mean Taiwan has felt China's slowdown more acutely than other economies.
Tsai says she'll expedite oversight legislation to ease concerns about such pacts, although she hasn't accepted the "1992 consensus" the KMT and Communist Party describe as essential to maintaining ties. Under it, each side has agreed they're part of "one China," even if they disagree on what that means.
Chu supports expanding Taiwan's markets with trade deals, while opposing mainland investment in Taiwan's sensitive microchip-design industry.
Stocks to watch: CTBC Financial Holding Co., Fubon Financial Holding Co., SinoPac Financial Holdings Co.
Analysis: Vincent Yang, a fund manager for Franklin Templeton SinoAm, says a DPP win would change the nature of cross-strait relations, but not bring them to a halt. A closely divided legislature would raise the prospects for gridlock, Yang says.
Housing Costs

Taiwan's home prices have more than doubled over the past decade, while household incomes are growing by just more than half a percent a year. The struggle to buy a home was a central issue during Taiwan's 2014 student protest, prompting then-Premier Jiang Yi-huah to urge a reduction in the home-price-to-income ratio in urban areas.
Tsai proposes building more affordable housing to rent to younger people, the elderly and other needy groups.
Chu backs providing rent subsidies to the young and disadvantaged, as well as giving incentives to owners to rent out vacant properties.
Stocks to watch: Huaku Development Co., Chong Hong Construction Co.
Analysis: Masson Li, a general manager at Taishin Securities Investment Advisory Co., says Tsai's housing plans may create more supply than demand exacerbate a slowdown in the property market.
Boosting Biotech
Buoyed by Taiwan's well-educated workforce and access to mainland China's huge market, Taiwan's biotechnology sector has been a bright spot in the economy. Industry stocks have gained 1.9 percent over the past three months, the best among 28 subgroups on Taiwan's benchmark Taiex gauge, which has fallen 8.7 percent.
Tsai made biotech one of five focus industries and in November named a researcher in epidemiology and genomics, Chen Chien-jen, as her running mate. She wants the government to boost resources to support the development of drugs and medical instruments and materials.
Chu has pledged to develop the biotech industry as way to attract overseas consumers and increase the number of high-wage jobs.
Stocks to watch: Formosa Laboratories, United Orthopedic Corp., Pacific Hospital Supply Co.
Analysis: Chu Yen-min, president of KGI Securities Investment Advisory Co., says the proposals support investments in pharmaceutical firms. 
Before it's here, it's on the Bloomberg Terminal.
LEARN MORE