Buffett's Mobile-Home Unit Should Be Probed, Lawmakers Say
by
Newspaper article alleged higher loan rates for minorities

Maxine Waters: Reports `present a disturbing business model'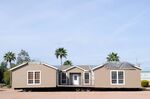 U.S. lawmakers called for federal investigations into Clayton Homes, the mobile-home business at Warren Buffett's Berkshire Hathaway Inc., after the Seattle Times and BuzzFeed News wrote that the company targeted minority borrowers and charged them higher interest rates on average than whites.
Representative Maxine Waters, the top Democrat on the House Financial Services Committee, joined three colleagues -- Democratic congressmen Keith Ellison, Emanuel Cleaver and Michael Capuano -- in calling for the Department of Justice and Consumer Financial Protection Bureau to look into the company.
"The practices detailed in the Seattle Times and BuzzFeed News investigation present a disturbing business model that targets low- and moderate-income minority borrowers," they wrote in a letter addressed to Attorney General Loretta Lynch and CFPB Director Richard Cordray. "The allegations raised in the news report are squarely within the agencies' authority to investigate and pursue appropriate corrective action."
Buffett didn't respond to a request for comment on the letter. Clayton has disputed the publications' findings, including their analysis of data obtained through the Home Mortgage Disclosure Act.
The company's lending arms "are highly regulated by state and federal agencies, which closely monitor our treatment of borrowers," Clayton said in a statement Wednesday. "The reporting is based on HMDA data, which does not include key factors used to underwrite and price loans, such as credit score, down payment and housing type."
The Seattle Times and BuzzFeed reported the lawmakers' letter Tuesday. For their Dec. 26 article, the publications crunched federal data to show a racial disparity in lending rates and documented sales practices that focused on minority communities. The news organizations also related incidents in which slurs were allegedly used in reference to employees and customers.
Published Allegations
It was the latest in a series of articles about Clayton, which has expanded under Berkshire's ownership and is now the largest builder of mobile homes in the U.S. An earlier story accused the company of engaging in deceptive sales practices, trapping borrowers in residences that are difficult to resell. Customers said collection agents working for the manufacturer told them to cut back on food and medical care to make house payments, according to that report.
Clayton has called the news accounts misleading. In a statement after the Dec. 26 article was published, the company said race and ethnicity don't factor into how it prices loans, that it doesn't target minority communities and that it doesn't tolerate discrimination against employees. 
Wider Range
The manufacturer also said that it offers mortgages to borrowers with a wider range of credit scores than do competitors, which could result in a disproportionate share of its loans being made to minority borrowers. The company had previously said that most customers are satisfied with their homes and mortgages.
At Berkshire's annual meeting in May, Buffett said he made "no apologies" for the business.
Buffett, 85, became one of the world's richest people by building Omaha, Nebraska-based Berkshire over the past five decades into a sprawling conglomerate. Its operations now include insurers, manufacturers, retailers, electric utilities and one of the largest railroads in the U.S. The billionaire has cultivated a folksy image and speaks frequently about honesty and ethics in business.
Waters, a California Democrat and former chair of the Congressional Black Caucus, opposed legislation last year that would have eliminated consumer protections on some mobile-home loans. She reiterated that position in a statement Tuesday.
Sam Gilford, a spokesman for the CFPB, declined last month to comment on whether the Clayton or its lending arms, Vanderbilt Mortgage & Finance and 21st Mortgage, are being investigated. He said at the time that "the allegations of discrimination and predatory practices raised by the reporting are obviously very concerning to the bureau."
Before it's here, it's on the Bloomberg Terminal.
LEARN MORE