Who Are the Mystery Conspirators in Bridgegate? Shhhhhhh
by
Prosecutors identify co-conspirators in lane-closings case

Media outlets seek to intervene for access to documents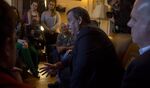 U.S. prosecutors secretly identified accomplices in the George Washington Bridge scandal to a judge and asked that the names remain permanently confidential, according to a lawyer for an indicted former ally of New Jersey Governor Chris Christie.
The names of the co-conspirators in the politically motivated lane closings at the bridge in September 2013 have been a mystery since May 1, when prosecutors announced the indictment of two former Christie allies and a third pleaded guilty.
Christie, a Republican running for the White House, has denied he played any role in the plot. The co-conspirators' identities might complicate his campaign, which is seeking to gain traction. Prosecutors accused the three allies of creating gridlock near the bridge because the mayor of Fort Lee, New Jersey, wouldn't cross party lines to endorse Christie's re-election.
Prosecutors disclosed the names to U.S. District Judge Susan Wigenton and defense lawyers in a Jan. 11 letter that asks her to "permanently shield its disclosure from public view given the 'sensitive nature' of the information," according to a filing by a lawyer for Bill Baroni, a defendant in the case.
The letter cited no legal authority to seal the list, while filing it directly with the judge "violates the explicit, detailed and well-established" procedures in New Jersey federal court, according to the attorney, Michael Baldassare.
Media Companies
Several media organizations filed Wednesday to intervene in the case, seeking access to documents filed under seal, including the list of co-conspirators.
The publishers and owners of the Record, Bloomberg News, WNBC-TV, the New York Times, nj.com, the Wall Street Journal, the Associated Press, NJTV and New York Public Radio filed the request.
Baroni, the former deputy executive director of the Port Authority of New York & New Jersey, was indicted with Bridget Kelly, Christie's former deputy chief of staff. They are accused of plotting with former Port Authority executive David Wildstein, who pleaded guilty and is helping prosecutors.
The case is U.S. v. Baroni, 15-cr-00193, U.S. District Court, District of New Jersey (Newark).
Before it's here, it's on the Bloomberg Terminal.
LEARN MORE