U.S. Stocks Stem Global Selloff
by and
Dow Average regains more than 200 points, led by Chevron

WTI crude and Brent rise above $31 a barrel after selloff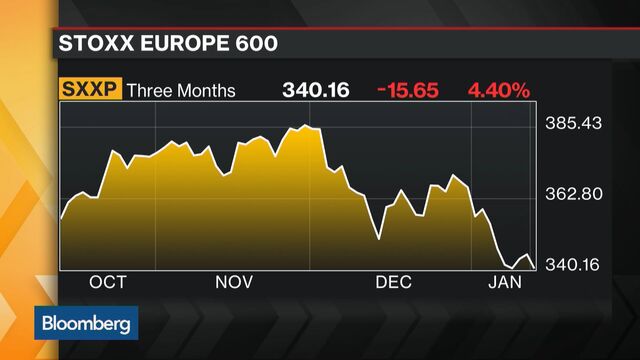 U.S. stocks rallied, with the Dow Jones Industrial Average clawing back some of Wednesday's selloff, as oil's advance beyond $31 a barrel bolstered energy producers and helped stabilize global markets rattled by concerns over China and sliding commodity prices.
The Standard & Poor's 500 Index gained the most in almost six weeks amid speculation its 6 percent slump in 2016 was overdone. Oil and gas equities drove the rebound, surging more than 4 percent as investors' appetite for riskier investments received support from Federal Reserve Bank of St Louis chief James Bullard, who said the rout in energy prices may dent inflation expectations. The dollar advanced, while haven assets from gold to the yen retreated. Nickel and aluminum led a rally in industrial metals.
Crude's stabilization above the $30 level burnished sentiment in a market battered by the worst start to a year on record for global equities and lingering anxiety over China's ability to manage its currency and slowing economy. Bullard's comments tempered expectations for another interest-rate hike in the U.S. and JPMorgan Chase & Co.'s earnings beat estimates, combining with technical signals that selling had gone too far to support gains in the U.S. session. Treasuries erased gains amid weaker demand at an auction of the securities, while gold's advance faded in the latter half of the day.
"This is the relief rally we've been waiting for," said Bruce Bittles, chief investment strategist at Milwaukee-based Robert W. Baird, which oversees $110 billion. "Pessimism had grown to such a level that enough cash had been raised on the sidelines to support at least a short-term rally. Better-than-expected earnings could be something for the bulls to grasp and provide this rebound some sustainability."
Stocks
The S&P 500 climbed 1.7 percent to 1,921.84 as of 4 p.m. in New York, after sliding on Wednesday past 1,900, a level its closed below only five times in the past 14 months. Small-cap shares rebounded from their lowest point in 2 1/2 years, while Chevron Corp. posted the biggest gain in the Dow with a 5.1 percent surge, the most since August.
U.S. benchmarks tumbled with stocks around the world to start 2016 as steep losses in Chinese equities and an effective devaluation of the yuan unsettled traders. The S&P 500's plunge on Wednesday triggered a technical signal that indicates it's oversold. The gauge's relative strength index, which measures whether gains or losses have been too fast to sustain, fell below 30, a threshold indicating a rebound may be imminent. The last time the RSI was that low was on Aug. 25, when the S&P 500 hit a bottom and rallied 6.5 percent over the next three days.
The MSCI All-Country World Index climbed 0.2 percent on Thursday, rising for only the second day since Jan. 4.
JPMorgan rose 1.5 percent after posting fourth-quarter profit that exceeded analysts' estimates amid lower expenses. Best Buy Co. sank 9.7 percent and GoPro Inc. tumbled 15 percent after reports showing disappointing holiday sales.
The Stoxx Europe 600 Index declined 1.5 percent, paring losses of as much as 3.3 percent, while selloffs from Japan to Australia drove the MSCI Asia Pacific Index down 1.7 percent to its lowest level since November 2012.
Emerging Markets
The selloff lingered in developing markets, with MSCI's Emerging Markets Index down 0.9 percent to bring its slide in 2016 to 8.9 percent. Persian Gulf stocks slid, with benchmarks in Saudi Arabia and Dubai falling more than 3 percent, while shares in Turkey, South Africa, Poland and the Czech Republic also slipped.
The Jakarta Composite Index retreated 0.5 percent after the worst attack in the Indonesian capital since at least 2009. Seven people were killed amid explosions and gunfire, including four attackers, Associated Press reported, citing a police spokesman.
In China, the Shanghai Composite Index climbed 2 percent after dropping 2.8 percent earlier in the session. The Hang Seng China Enterprise Index of mainland shares fell 0.4 percent, taking its loss for 2016 to 12 percent. 
Bonds
Treasuries lost support, reversing gains from earlier in the day as a $13 billion sale of 30-year bonds generated lower demand than was seen at a pair of auctions earlier this week. Yields on the 2045 bonds rose one basis point, or 0.01 percentage point, to 2.89 percent, while the 10-year yield was little changed at 2.09 percent. A sale of 10-year notes on Wednesday was deemed "outstanding" in a survey of five primary dealers conducted by Bloomberg.
Rates on 10-year German bunds, Europe's benchmark security, added one basis point to 0.57 percent, while the yield on Spanish bonds also rose one basis point to 1.78 percent after the nation sold 4.3 billion euros ($4.7 billion) of debt maturing in 2018, 2020 and 2023. Portugal is selling 10-year debt via banks.
Currencies
The Bloomberg Dollar Spot Index rose for the 18th time in 19 sessions and touched its highest level in data going back to 2005. The dollar erased earlier losses against the euro and yen, while the South Korean won and New Zealand dollar led declines against the greenback. 
"The dollar will benefit from a sense of stability from global markets," said Omer Esiner, chief market analyst at currency brokerage Commonwealth Foreign Exchange Inc. in Washington. "That rise in the price of oil off of the lows sends a nascent sense of stability to investors."
The pound rebounded after dropping to 76.07 pence per euro, the weakest level in almost a year, as Bank of England officials kept key interest rates at a record low and said the near-term outlook for both U.K. economic growth and inflation has weakened.
 
Commodities
The Bloomberg Commodity Index, which tracks raw material returns, was little changed after dropping to the lowest level since 1991 on Tuesday. Gold futures fell 0.9 percent to $1,077.30 an ounce as demand for haven assets eased.
West Texas Intermediate oil for February delivery rose as investors reassessed the reasons for a drop in futures to a 12-year low. Futures were up 2.4 percent at $31.20 a barrel after earlier dropping as much as 0.7 percent. Brent added 1.7 percent to $30.82 a barrel.
"We're getting a bit of a pause after the big drop," said Rob Haworth, a senior investment strategist in Seattle at U.S. Bank Wealth Management, which oversees $128 billion of assets. "Stocks are up a bit after a big drop yesterday."
Before it's here, it's on the Bloomberg Terminal.
LEARN MORE