Asia's Biggest Drugmaker Eyes Greener Shores as Fortunes Fade at Home
by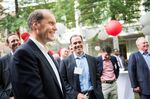 The balmy summer evening last year saw some of the most prolific biotech and scientific minds of Boston come together. There was the provost of MIT, enjoying the saxophone music alongside a U.S. congressman and senior venture capitalists. Their hosts: the Frenchman and the American tasked with turning around the fortunes of Asia's largest drugmaker, Takeda Pharmaceutical Co.
On the lawns of its Boston hub, the Japanese company was courting international partners as it builds a stronger foothold in the American city, an epicenter of innovation in the biotechnology world. It joins a race with other big pharma companies, who have built a presence there to tap universities, research hospitals and a robust start-up community.

Boston is key to the ambitions of Christophe Weber, the Frenchman who last year took over as Takeda's first foreign chief executive officer. Weber is attempting to replenish the 235-year-old company's flagging pipeline of drugs and offset the shrinking Japanese market with growth in the U.S. and in emerging markets. Together with Andy Plump, the American he charged with managing research and development, he is hunting for acquisitions or partnerships to win control of new experimental medicines that can be turned into blockbusters -- drugs with annual sales of more than $1 billion.
At the company's Boston R&D facilities -- adjacent to MIT and a short walk away from Harvard -- about 1,000 scientists are studying new compounds focused on conditions including cancer and gastrointestinal diseases, newly marked as a focus for the company. Trains on the area's subway system were recently plastered with ads from the Japanese company.
"Ten years ago you could be a leading global company by just being big in Japan because the domestic market was so big, but today it's impossible," said Weber. In wide-ranging interviews at Takeda's Tokyo headquarters, Weber laid out his ambitions to make the company a global leader in oncology and gastrointestinal treatments and gain control of new drugs the company can develop to sell worldwide.
Stock Price
Investors are displaying some skepticism. While Takeda's shares have climbed about 8.5 percent over the past year, they have lagged the 18 percent gain in the Topix Pharmaceutical Index, a gauge of Japanese drug companies. Sentiment from domestic investors on the stock is still "quite gloomy," said Fumiyoshi Sakai, an analyst at Credit Suisse.
For decades, the Japanese company was a pioneer in the pharma industry at home and even gained global attention for Actos, once the world's best-selling diabetes drug. With about 1.78 trillion yen ($15 billion) in annual revenue, Takeda ranks 18th among the 20 largest pharma companies worldwide. But in recent years, it has faced an array of problems: patents for its biggest medicines expired, its 5,000 scientists produced few new drugs and Japan's government pushed cheaper generic treatments to ease strained fiscal budgets. Earnings hit a 15-year low in the year ended March 2014. Global pharma rivals, meanwhile, have brokered multi-billion-dollar acquisitions and profited from the launch of new medicines.
Takeda has introduced six new products in the past two years and is expanding uses for those. Still, the company has no significant late-stage experimental drugs in its pipeline besides a dengue vaccine that is expected to this year reach the final rounds of human trials. "Andy Plump has a huge job ahead," said Sakai. "Clearly late-stage pipeline doesn't come cheap." Also, the company could face a wait of more than five years before it sees results on newer partnerships, he said.
Weber, 49 years old, joined Takeda in 2014 as chief operating officer before ascending to the top role in April last year. A 20-year veteran of GlaxoSmithKline Plc, where he had been head of the vaccines business, he was recruited by predecessor Yasuchika Hasegawa, who was himself the company's first CEO from outside the founding family.
In recent months, Weber has filled key executive positions with external hires from international pharmaceutical competitors. To revive research and development, he hired Plump from French drugmaker Sanofi to be Takeda's chief medical and scientific officer. To mentor local talent, Weber's also begun hosting leadership programs including a 'President's Forum.' He also holds regular conference calls with the top 300 managers so they can have direct access to the CEO, not common in Japan.
International executives are rare in Japan and have had a mixed record. Howard Stringer, the former Sony Corp. president, stepped down in 2012 after overseeing four straight annual losses. Nissan Motor Co.'s Carlos Ghosn has been credited with turning around the carmaker.
In November, Takeda announced a joint-venture for Japan with Israel-based Teva Pharmaceutical Industries Ltd., the world's biggest generic drug manufacturer, to pool local resources to boost sales of generics. And on Weber's watch, Takeda ended several years of litigation by agreeing to pay more than $2 billion to settle thousands of lawsuits in the U.S. that claimed the drugmaker hid the cancer risks of the Actos diabetes medicine. (The company denies the treatment poses any risk.)
It also sold a respiratory business to British drugmaker AstraZeneca Plc for $575 million in December as it focuses on its core areas. The company "might have a few businesses still to dispose" as it continues to focus on core therapeutic areas, Weber told participants of the J.P. Morgan Healthcare Conference in San Francisco this week, without specifying which assets.
Weber's move to settle the Actos suits was welcomed by several analysts, and Atsushi Seki, an analyst with Barclays, said Weber has done a good job stabilizing Takeda during the transition. Even so "a lot of work is required to gain confidence from both Japanese and international investors," Seki said.
Seeking Innovation
Analysts, on average, are forecasting that Takeda will have earnings of about 81 billion yen for the year ending March 2016. That's less than a third of what profits had been in 2011.
Globally the tide sweeping the big pharma landscape is innovation outside its laboratories, and Weber acknowledges the need for the Japanese company to be looking outwards to come up with new treatments. "The majority of new molecules discovered today are not by big pharma," said Weber. "So we need to be very humble in a way and say yes we will have internal capability, but we need to think external as well."

In December, Takeda began a tie-up with Shinya Yamanaka, the Japanese researcher who won the 2012 Nobel Prize for his research on stem cells. Under the ten-year, $170 million pact, Takeda will partner with the scientist's center to study ways to use cell technologies for conditions such as diabetes and cancer.
In recent weeks, the company has announced several partnerships including one with Chicago-based Cour Pharma, which along with Northwestern University has researched treatments for celiac disease, a condition in which the small intestine is over sensitive to gluten. Plump says there is more to come and in the next six months a number of other tie-ups on new medicines will be announced.
Weber wants to steer the company to two main therapeutic areas: oncology and gastrointestinal diseases. Acquisitions are a possibility in those areas, he said, without providing details. Those focuses were built around two high potential drugs Takeda has launched in the past two years: Entyvio for ulcerative colitis and Ninlaro for treatment of multiple myeloma, a cancer of plasma cells. Takeda has said Entyvio will reach peak sales of $2 billion, without mentioning a specific date.
Plump says he doesn't feel pressured to populate Takeda's pipeline immediately because recently launched drugs like Entyvio will have a long life cycle and give the company "a runway of at least five years assuming nothing awful happens." Plump also says the company doesn't want to solely rely on outside acquisitions and prefers, instead, to focus on building its pipeline and early partnerships over time.
"Despite the fact that it's existed for more than two centuries and has been doing R&D for 100 years, it's a newborn company," said Plump. "It was given a fresh perspective and a new outlook maybe five years ago, but it's like a baby in the industry."


Before it's here, it's on the Bloomberg Terminal.
LEARN MORE