AirAsia X Says Taking Carrier Private Is Option on Valuation
by
Being taken private not currently on the cards, Benyamin says

AirAsia X, AirAsia are worst-performing airline stocks in Asia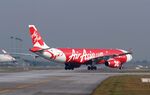 The chief executive officer of AirAsia X Bhd. said taking the company private is an option, after shares of the long-haul budget carrier in Tony Fernandes's AirAsia group plunged 64 percent in the past year to become the worst-performing airline in Asia.
Sister company AirAsia Bhd. also is examining that option, Benyamin Ismail said in an interview Wednesday in New Delhi. AirAsia Bhd. has "no knowledge of privatisation," and it hasn't received any offers to take the company private, it said in a statement.
"That's something that I'll let shareholders comment, both of us, as an option, both companies are looking at, AirAsia Bhd., us," said Benyamin, who was in India to announce the resumption of AirAsia X flights to New Delhi. "As a shareholder, the valuation of the company is very cheap at the moment, it's very good to take it private." 
However, he added, there currently are no plans to take the companies private and it could be a challenge to find investors willing to do so.
AirAsia X and AirAsia Bhd. became Asia's worst-performing airline stocks in the past year after a fatal crash by an Indonesian affiliate, mounting competition and a weaker ringgit damped investor demand. The decline was exacerbated by a GMT Research report last June questioning AirAsia's accounting.
Limited Hedging
Shares of AirAsia X rose 11 percent to 0.20 ringgit in Kuala Lumpur, after climbing as much as 14 percent earlier, the most on record. AirAsia shares rose 0.7 percent to 1.39 ringgit.
Reuters reported in October that founders of Southeast Asia's biggest low-cost carrier were sounding out investors about taking the company private, citing unidentified people familiar with the matter. AirAsia said at the time it had "no knowledge" of any plans to take it private.
AirAsia X has hedged half of its 2016 oil requirements at about $60 a barrel and could hedge further if oil prices fall to about $20 to $25, as the lifting of sanctions on Iranian exports could aggravate oversupply, Benyamin said.
The carrier has held off from hedging more at the $60 level because it expects prices to fall further, he said. Crude oil futures in the U.S. fell below $30 for the first time in more than 12 years on Tuesday.
"For oil, the best way to think about it is to enjoy first," Benyamin said. 
(An earlier version of this story was corrected to reflect the share gains Wednesday.)
Before it's here, it's on the Bloomberg Terminal.
LEARN MORE