A Billion in Pandemic Prevention Is Worth a Trillion in Cure
The world is warned to prepare now for health crises such as the Ebola outbreak, or pay a lot more later.
By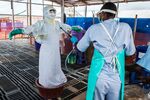 In October 2000, an Ebola outbreak was detected in Gulu, Uganda. The virus spread across the country, infecting 425 people and killing more than half of them. It was a wakeup call for the African nation, though apparently not the rest of the world.

Uganda responded by creating systems to spot epidemics in the making. "Village health teams" were made responsible for monitoring a few dozen households apiece, as well as building labs so specimens could be tested in 24 hours. While an Ebola outbreak seven years later took weeks to investigate, by 2011 Ugandan authorities were responding in a day or two, keeping deaths to a minimum.