Tax Rebel Plucked From Catalan Provinces Leads Independence Push
by
Puigdemont's nomination ended standoff between separatists

New Catalan leader helped channel town-hall taxes to region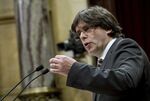 Carles Puigdemont barely had time to write his speech before he was presented to Catalan lawmakers as the region's new president.
The former mayor of Girona, a city near Spain's border with France, emerged as a last-minute compromise candidate as the fighting between two factions within the independence movement threatened to force new elections, jeopardizing their majority in the regional assembly. He's due to be sworn in Tuesday allowing the separatists to step up their preparations for secession.
"My head was still in Girona," Puigdemont told the regional parliament on Sunday, as lawmakers offered their backing just hours before a midnight deadline that would have triggered a fresh ballot. "I never thought I would be here in this situation."
The situation that Puigdemont, 53, referred to is offering the new leader and his allies an opportunity to advance their plans to break up the Spanish state that seemed unlikely during their three-month struggle to form a government. The separatist movement had been gridlocked since September's regional election as the anarchists of the CUP refused to give the mainstream candidate Artur Mas a third term in office.
Spanish Impasse
Now it's the Spanish government in Madrid that is hamstrung.
Acting Prime Minister Mariano Rajoy lost a third of his support in December's general election and negotiations to form a new administration could take months. Meanwhile the Catalans can begin to put in place their plans for a tax agency, a central bank, and a new constitution.
The spread on between Spain's 10-year debt and Germany widened to 126 basis points on Monday, the first trading day after Puigdemont's appointment was approved, compared with 120 basis points on Friday.
The emergence of a new Catalan government in Barcelona is giving a fresh urgency to talks in Madrid where politicians are trying to forge a workable majority from the most divided parliament in the country's history.

With Catalonia accounting for about 20 percent of Spain's output, Rajoy may be able to use the deepening sense of crisis to force his rivals into a broad alliance to defend the constitutional order. The acting prime minister says the Catalans' plans are illegal and he'll make sure they don't succeed.
The government that Puigdemont will lead is committed to getting Catalonia ready to "unplug" from Spain in 18 months.
If it can be "15 months that's even better," Puigdemont told lawmakers Sunday.
Caixa Dilemma
Puigdemont, a journalist by training, won his spurs within the separatist movement organizing town halls' efforts to prepare for independence. Since July he's been head of the Association of City Halls for Independence that brings together more than 80 percent of the region's towns and about half the population of 7.5 million.
The association has led efforts to get Catalan towns and cities to pay their taxes to the regional tax agency instead of directly to the Spanish treasury in Madrid, Puigdemont said in an interview in November. It has also worked on legal defense to protect its members from lawsuits brought by the Spanish state.
Asked how Catalonia-based lenders like Caixabank SA and Banco Sabadell SA might react should the Catalan administration challenge Spain's claim on their tax revenue, he said: "It's up to companies and individuals to know which their tax obligations are. But I don't have any doubt that the Catalan state will be organized in an effective manner."
The new regional leader swapped journalism for politics in 2006 when he ran for the Catalan parliament on the list of Mas's party Convergencia i Unio, eventually winning a seat in 2007. Still, he remained outside of the inner circle of a group that has been stained by corruption allegations and ripped apart by disputes over the push for independence.
"He doesn't belong to any political family within Convergencia and nor has he had any full time position in the party," said Jordi Bosch, president of Endemol Shine Iberia, who's been friends with Puigdemont for decades. "He will be loyal to Mas for what he represents in Convergencia, but with his own personal touch and way of thinking."
Before it's here, it's on the Bloomberg Terminal.
LEARN MORE