South Sudanese Consumer Prices More Than Doubled Last Month
Paul Richardson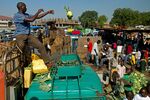 South Sudan's annual inflation rate surged to 109.9 percent in December as food, clothing, alcoholic-beverage and utility costs increased, the National Bureau of Statistics said.
Inflation accelerated from 73.6 percent in November, the Juba-based bureau said in a statement Tuesday. Prices climbed
4.9 percent in the month, after a 13.7 percent increase in November, it said.
South Sudan, which has sub-Saharan Africa's third-biggest oil reserves, has been wracked by two years of conflict that have left tens of thousands of people dead and forced more than 2 million people to flee their homes.