Royal Bank's McKay Sees More Losses From Soured Energy Loans
by
Alberta's woes aren't causing broader contagion, McKay says

BMO's Downe said Canada's economic oulook `modestly gloomy'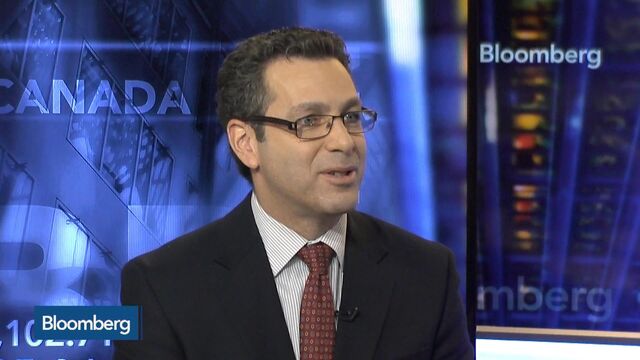 Royal Bank of Canada's credit losses this year will be fueled by soured energy bets even as the broader loan book remains mostly unaffected by the economic woes facing oil-rich Alberta, Chief Executive Officer David McKay said.
Royal Bank, the country's second-largest lender by assets, has almost 10 percent of its C$80 billion ($56 billion) wholesale-loan portfolio in oil and gas, McKay said Tuesday at an investor conference in Toronto sponsored by his firm. He estimated potential losses for the entire wholesale portfolio to be about 40 basis points in 2016.
"You would expect that portfolio to be more challenged over the coming year than we saw in 2015," McKay said. "The rest of the portfolio is strong, and I think that belies the economy. While we have severe challenges in the Alberta economy, the contagion back to the rest of the country is nominal right now."
A weaker Canadian dollar relative to the greenback is benefiting the "multifaceted" British Columbia economy, McKay said, while central Canada, Ontario and Quebec are showing increased economic strength as they find new customers and markets for products. The retail industry is "a little bit stronger" as Canadians stayed home to shop over the holidays, and tourism gained, he said.
'Modestly Gloomy'
"You're starting to see that lag effect of that weaker dollar," McKay, 52, said. The decline is "starting to drive employment, starting to drive exports, and creating an offsetting positive impact that will altogether lead to 1.5 to 1.8 percent growth," he said.
Bank of Montreal CEO William Downe, who also spoke at the conference, said Canada's economic outlook is only "modestly gloomy."
"We're still seeing a reasonable economic growth in other parts of Canada away from the oil-producing provinces," Downe said, estimating that the country's economy will grow 1 percent to 1.3 percent this year. "The economy is going to be soft relative to potential, but still positive growth."
Bank of Montreal will stress test its loan portfolio this year based on oil at $35 a barrel -- the same average price as it used in 2015, Downe said. Losses could rise 40 basis points in that scenario, though such an increase won't have a big impact on total costs for the bank, given the size of its oil-and-gas loan portfolio, he said. A basis point is 0.01 percentage point.
Stress Test
Downe, 63, said his bank is testing its loan book using a $30-a-barrel average for 2017, and doesn't expect that stress-test price to return to $40 until 2018.
Toronto-Dominion Bank CEO Bharat Masrani said at the conference that he expects provisions for credit losses to "creep up" 5 percent to 10 percent this year, largely because of the oil slump. Because Canada is an energy exporter, lower oil prices affect the growth of the broader economy, Masrani said.
"Our view is actually the growth in Canada would be muted, we're looking at less than 2 percent," Masrani said. Until the benefits of a weaker loonie kick in, Canada is "looking at an economy that is not going to have as much a robust growth level as what we might have expected if oil was much higher."
'Different Game'
Bank of Nova Scotia CEO Brian Porter said "it's a bit of a different game today" than a year ago, when at the same conference he predicted there would be "a few fender benders, but there wasn't going to be a 20-car pile-up" from the oil slump. Scotiabank, Canada's third-largest lender, has C$16 billion of energy loans, he said.
In a distressed environment, which would include about 11 percent unemployment in Alberta and oil prices at the same level through the end of 2017, Scotiabank could expect an additional C$450 million to C$550 million in loan-loss provisions, Porter said.
"That's very manageable," Porter, 57, said. "Keep in mind that's going to happen over a number of different quarters, it's not going to happen all at once. I think, candidly, the market's anticipating a much bigger number."
Canadian Imperial Bank of Commerce CEO Victor Dodig, 50, reiterated the lender's estimate of C$650 million in pretax losses if oil remains at $30 for three years. About 75 percent of the additional loses would be from business loans, he said at the conference.
National Bank of Canada CEO Louis Vachon said he estimates losses of 20 to 30 basis points on its total loan portfolio in the first and second quarters, though if oil prices stay where they are today losses may gravitate toward 30 basis points. The Montreal-based bank's worst-case scenario is no higher than 40 basis points total for loan losses, Vachon, 53, said.
National Bank of Canada CEO Louis Vachon, 53, estimates loan losses of 20 to 30 basis points in the first and second quarters. The Montreal-based bank's worse-case scenario is for total losses of no more than 40 basis points.
Before it's here, it's on the Bloomberg Terminal.
LEARN MORE