RBA Can Chill Out on Rates as Aussie Slump Gives Adrenaline Shot
by
Decline in currency has come as China concern rocks markets

Economists predict no change to RBA benchmark in February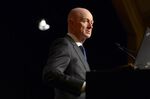 Australian markets are betting central bank Governor Glenn Stevens will stick to his "chill out" advice on interest rates as this year's 3.5 percent Aussie dollar drop delivers the economy an adrenaline shot.
Traders were wagering on Tuesday that the Reserve Bank of Australia's policy rate will be 1.83 percent in six months time, implying a 68 percent chance of one 25 basis point reduction to the 2 percent benchmark, according to swaps data compiled by Bloomberg. When Chinese equities swooned in the third quarter of 2015, swaps signaled a move to 1.58 percent by the RBA.

Stevens closed the door on a near-term reduction in November when he said traders should "chill out" until February and his confidence was followed by the biggest two-month surge in jobs growth in almost 28 years. The Australian dollar's slide this year may reduce the bank's need to ease policy because it will act to boost economic activity and inflation.
Cut Unlikely
"The more the currency works, and provides the necessary relief, the less likely the RBA is to step in and play nurse," said Jarrod Kerr, a senior interest-rate strategist at Commonwealth Bank of Australia in Sydney. "Stevens has done a very good job of removing near-term rate cut fears, and telling us all to chill out. Even with all this madness, the RBA is unlikely to cut over the next three months."
The market is thinking about cuts around the middle of the year, and swaps traders are probably focused on a scenario where the RBA would make two reductions or none, Kerr said.
The Australian dollar's latest drop has accompanied China's decision to weaken the daily reference rate for the yuan, rocking commodity and equity markets as investors question the Asian nation's growth trajectory. The Bloomberg Commodity Index of 22 raw materials has fallen 5.1 percent since Dec. 31, extending six straight months of declines.

The Aussie dollar was at 70.33 U.S. cents as of 2 p.m. on Wednesday in Sydney, 2 percent above a 6 1/2-year low of 68.96 reached in September. It bought 79.42 cents on May 5 when the RBA last cut rates.
The central bank will probably hold steady at the next three meetings before lowering its benchmark to 1.75 percent in May, where it will remain until year-end, according to the median forecasts of 23 economists surveyed by Bloomberg News in December.
Governor Stevens and his board have appeared reluctant to add to last year's two rate cuts to avoid overheating the Sydney property market and hurting savers, even though inflation is low enough to allow for further easing.
Jobs Growth
"I'm more than content to lower it if that actually helps, but is that the best thing to do at any particular time?" Stevens said Nov. 24 in response to a question on the cash rate. "We've got Christmas. We should just chill out, come back and see what the data says."
Since then, statistics bureau data has shown employers added 71,000 jobs in November on top of an unexpected increase of 56,100 in October. A report due Thursday is predicted to show payrolls shrank by 10,000 in December and the unemployment rate rose to 5.9 percent, according to the median estimates in a Bloomberg survey.
"Although lower commodity prices are bad news for local income growth, if the Australian dollar falls in tandem, this should help to offset the negative impact on growth and accelerate the rebalancing of growth to the non-mining sectors," Paul Bloxham, the Sydney-based chief Australia economist at HSBC Holdings Plc, wrote in a Jan. 11 report. Low inflation, "means the RBA has scope to cut rates further in coming months, but if the Australian dollar keeps sliding, they may not need to."
Before it's here, it's on the Bloomberg Terminal.
LEARN MORE