Putin Says Sheltering Assad Would Be Easier Than Snowden Asylum
by and
Russia backs `legitimate' Syrian government, political reform

Iran-Saudi tensions don't help solution in Syria, Putin says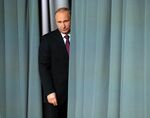 President Vladimir Putin said giving refuge to Syrian leader Bashar al-Assad would be much easier than it was for Russia to grant asylum to former U.S. intelligence contractor Edward Snowden, though he dismissed the idea as "premature" in an interview with German newspaper Bild.
If presidential elections in Syria are held democratically under a United Nations-sponsored peace plan, "then Assad will probably not need to leave the country at all," Putin told Bild, according to a transcript of the interview provided by the Kremlin. "And it is not important whether he stays as president or not."

Russia's harboring of Snowden, accused of making public U.S. surveillance secrets, sparked a major confrontation with the U.S. in 2013. Tensions between the world's two biggest nuclear powers escalated into the worst post-Cold War standoff in 2014 after Russia annexed Ukraine's Crimea peninsula and backed insurgents in nearby regions. Now Russia and the U.S. are cooperating to end five years of civil war in Syria, which has killed more than 250,000 Syrians and led millions more to flee their homes, provoking the biggest refugee crisis in Europe since World War II.
Snowden won the right to live in Russia for three more years in 2014, extending a one-year asylum that ended his 39-day stay in the transit area of Moscow's Sheremetyevo airport. He fled to Moscow from Hong Kong after exposing clandestine National Security Agency programs that collect phone and Internet data.

'Legitimate' Change
Putin said his main goal is to support the "legitimate" government in Syria while encouraging constitutional reforms, defending Assad's use of force against his armed opponents. At the same time, the Russian leader said Assad has made "many mistakes" over the course of the Syrian conflict.
As Russia's military intervention in Syria succeeds in bolstering Assad, opposition in Washington is weakening to the Kremlin's insistence that he be allowed to compete in a presidential election in the next 18 months, according to Russian and Western officials.
A major rift between regional rivals Saudi Arabia and Iran after attacks on Saudi diplomatic missions on Iranian soil in protest at the execution of a prominent Shiite cleric "hampers the efforts to settle the Syrian crisis," Putin said. Saudi Arabia, a backer of rebels seeking Assad's ouster, in response cut diplomatic ties with Iran, which is an ally of Syria along with Russia.
Putin also issued a warning to Turkey, whose Nov. 24 downing of a Russian warplane on the border with Syria ruined ties with the Kremlin. While Russia hopes such incidents won't lead to large-scale hostilities, it will defend its security interests with all available means, Putin said.
Before it's here, it's on the Bloomberg Terminal.
LEARN MORE