Modi Seen Failing to Lower India Subsidy Bill Despite Oil's Fall
by and
India spending on fuel subsidies said to hit budget target

No savings even though prices are 50% lower than estimated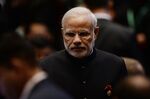 Don't count on falling global oil prices to bolster India's finances.
Prime Minister Narendra Modi's administration will spend all of the 300 billion rupees ($4.5 billion) it budgeted for petroleum subsidies for the year through March, said two officials familiar with the matter, asking not to be identified because the detail isn't yet public. That's despite planning for $70 a barrel crude that now costs $30, they said.
The officials said this was because Modi sought to boost liquefied petroleum gas usage in rural areas where villagers use dirtier fuels like wood or cow dung. Other factors are probably at play, however, since government data on gas consumption shows a smaller increase than the previous year.
One explanation is chronic under-budgeting. India has long spent more than it has budgeted on fuel subsidies, so hitting the target would mark an improvement over most years. Another is that Modi's campaign to get well-to-do citizens to voluntarily give up gas subsidies failed to meet expectations. Since the government didn't release any targets for this, it's hard to tell if that's the case.

Either way, the numbers would reflect a broader struggle for Modi to take advantage of falling oil prices to make structural changes that reduce the fiscal deficit and free up more funds for roads, ports and bridges. Fuel subsidies now amount to more than Modi's entire social welfare budget, and are a sensitive topic in a country where more than 20 percent of the population lives below the national poverty line.
"They have completely missed the bus," said Mohan Guruswamy, a former Finance Ministry official and chairman at New Delhi-based think tank Centre for Policy Alternatives. The government could've taken bolder steps such as doing more to bring down subsidy costs for LPG and fertilizer, and passing a law capping subsidies as a percentage of gross domestic product, he said.
Voluntary Steps
Modi has instead preferred voluntary measures to cap spending. Early last year he urged India's 163 million cooking gas consumers to give up their subsidy. When that didn't yield the expected results, he began asking those earning a taxable income of more than 1 million rupees to forfeit the benefit in 2016. He stopped short of announcing steps to enforce the decision.
"It's not the right way of doing it," said D.K. Srivastava, chief policy adviser at EY India, who said the government needs to be unambiguous when issuing restrictions. "Because of political considerations they chose the voluntary route, which makes everything unpredictable."
For the year starting April 1, the administration can reduce the bill by as much as 50 percent to 150 billion rupees, he added.
Finance Ministry spokesman D.S. Malik didn't respond to two calls on his mobile phone seeking a comment on the fuel subsidies.
Cleaner Fuel
Another source of pressure on the government's fuel bill is its move to expand the use of cleaner cooking fuel to villages.
India saw a net addition of 9 million LPG connections even after about 6 million people gave up their cooking gas subsidy, Oil Minister Dharmendra Pradhan said this month. Even so, overall consumption rose 8 percent April-November to 12.5 million metric tons, compared with an 11 percent increase in the same period a year earlier, government data show.
Going ahead, the government may lower the income limit for the LPG subsidy and boost cash transfers for subsidized kerosene to prevent costly leakages, said K. Ravichandran, senior vice president at Moody's local unit ICRA Ltd.
Budget Risks
Failure to cash in on the oil plunge would render India more vulnerable to global economic weaknesses. The government's top economic adviser warned last month that the administration may have to reassess its budget deficit target for the coming fiscal year if growth slows, after having already delayed an earlier plan to narrow the gap to 3 percent of gross domestic product by 2017.
The shortfall reached 87 percent of the full-year target in the first eight months of the current fiscal.
For the year starting April 1, the government will budget for oil costing below $50 a barrel, the Press Trust of India reported, citing officials it didn't name. The administration will also look to reduce subsidies by better targeting beneficiaries, said Dharmakirti Joshi, chief economist at Crisil Ltd. in Mumbai.
"Oil prices will not remain benign forever," Joshi said. "If you aren't able to save now, when will you save?"
Before it's here, it's on the Bloomberg Terminal.
LEARN MORE