German Terror Deaths Draw Merkel Closer to Mideast Turmoil
by and
Chancellor ally pushes back against linking terror, refugees

Parliament to debate New Year's Eve sexual assaults on women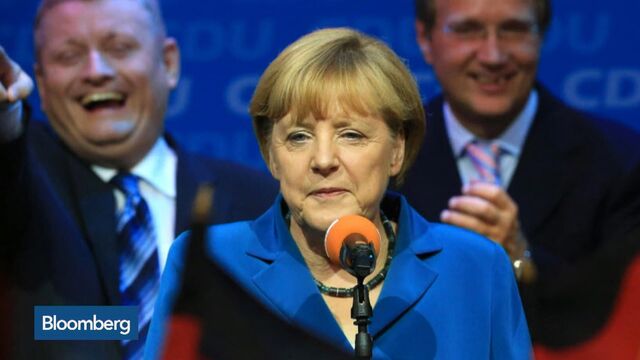 Chancellor Angela Merkel is being drawn deeper into the Middle East's turmoil with the suspected suicide bombing that killed at least 10 Germans in Istanbul, her country's biggest death toll in a terror attack in almost 14 years.
The assault on tourists in the Turkish metropolis adds to pressure on Merkel as some in her coalition demand a cap on a record influx of refugees and New Year's Eve sexual attacks in German cities risk provoking a xenophobic backlash. About half of last year's estimated 1.1 million asylum seekers arriving in Germany fled the civil war in Syria, where Merkel has sent surveillance planes to join French, U.S. and other forces fighting Islamic State.
"We won't surrender to terrorism," German Interior Minister Thomas de Maiziere said Wednesday in Istanbul, where he held talks with Turkish officials in the attack's aftermath. There's no evidence so far that Germans were expressly targeted, he said.
The attacker struck Tuesday just as Merkel's government presented legislation to ease the expulsion of asylum seekers who commit crimes, a response to the violence against women at public New Year's Eve celebrations in Cologne. Germany's lower house of parliament held a special debate Wednesday on the proposed changes.
"We're in a critical phase where many citizens are concerned about the state's ability to respond," Justice Minister Heiko Maas said in a speech to lawmakers. "We can't let that happen."
Support for the Alternative for Germany party, which advocates closing the border to migrants and doesn't have seats in the national parliament, rose 1 percentage point to 9 percent in a weekly survey by Forsa polling. Merkel's Christian Democrat-led bloc and the Social Democrats, her coalition partner, were unchanged at 38 percent and 23 percent, respectively. The Jan. 4-8 poll of 2,503 people has a margin of error of as many as 2.5 percentage points.
The blast in Istanbul killed 10 Germans traveling in a group in the downtown district of Sultanahmet, the symbolic heart of the city's tourism industry, Sawsan Chebli, a German foreign ministry spokeswoman, told reporters in Berlin. Another seven remained in the hospital, five of whom are in critical condition, she said.
'Inhumane Face'
"Global terrorism has once again revealed its barbaric and inhumane face," Merkel said Tuesday. "This shows once again the necessity to move decisively against terrorism and to overcome this cruelty."
While there was no immediate claim of responsibility, Turkish President Recep Tayyip Erdogan said a suicide bomber from Syria may be to blame. The attack highlights deteriorating security in a country that Merkel depends on to help restrict refugees crossing the Aegean Sea to Greece, the key entry point into the European Union in the latest surge that began last summer.
As the Istanbul attack dominated German morning talk shows, Merkel's political allies sought to draw a line between terrorism and the refugee crisis.
"When 1 million people show up, you'll have a few among them who are criminals, and you can't rule out that terrorists are among them," Volker Kauder, parliamentary leader of Merkel's party bloc, said on ARD television. "But the slogan that all terrorists come in via the refugee flow -- that's false."
Merkel's Standing
Germany has avoided large-scale terrorism since the September 11, 2001 attacks on the U.S., though authorities have foiled several plots. Tuesday's death toll is the country's highest in a terror attack since a synagogue bombing attributed to al-Qaeda killed 19 people, including 14 Germans, in the Tunisian resort of Djerba in 2002.
Geopolitical uncertainty is "unusually high," Ulrich Grillo, head of the Federation of German Industries lobby group, said in Berlin on Wednesday. Though German economic growth isn't under threat, the refugee crisis risks making Merkel's government "blind to other challenges," Grillo said at a news conference.
For all the turmoil, the terror attack in Turkey may bolster Merkel as Germans look to the federal government to ensure public safety in the face of a global threat, according to Forsa head Manfred Guellner, whose polling company is based in Berlin.
"An attack like the one in Istanbul tends to strengthen Merkel's power since people associate stability and security with the government," he said by phone. The chancellor is also drawing "a fundamental distinction between terror and refugees," a stance accepted by most voters, Guellner said.
Before it's here, it's on the Bloomberg Terminal.
LEARN MORE