Meet the Chinese Newcomers Staking a Claim to Global Oil Trading
Bloomberg News
Teapots to handle about a fifth of China's 2016 oil imports

Plants boost refining rates as they get crude import licenses
China is forecast to overtake the U.S. as the world's biggest crude importer in 2016 and that's largely thanks to a group of buyers who weren't allowed to purchase foreign oil a year ago.
Record Chinese purchases have been a rare bright spot for global producers amid an oversupply that's driven prices to the lowest in more than 11 years. The good news for oil bulls is that imports by the world's largest commodities user are forecast to accelerate further this year, with the privately held refineries accounting for almost a fifth of the total, according to a Bloomberg survey of company officials.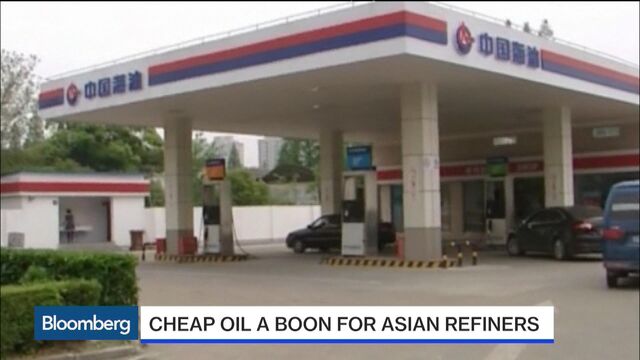 China's government started granting import licenses in 2015 to these independent refineries known as teapots as part of an effort to boost private investment in the energy industry. While the plants account for almost a third of the country's refining capacity, only state-owned giants such as PetroChina Co. and China Petroleum & Chemical Corp. were previously permitted to import crude. The teapots had to reprocess fuel oil or rely on supply from larger rivals.
They'll probably import at least 1.1 million barrels a day of crude this year, according to a survey of officials at the plants. China will import a total of 7.4 million barrels a day, exceeding U.S. purchases of 7.26 million barrels in 2016, according to ICIS China, an industry researcher. Here are details about the biggest of these companies and their plans for 2016:

Shandong Dongming Petrochemical Group
The biggest teapot aims to fully use its annual crude import quota of 7.5 million metric tons, or about 150,000 barrels a day, in 2016, said Shen Fan, a deputy general manager at Pacific Commerce Holdings Pte, its trading unit. That's 87.5 percent more than its purchases last year. It owns two refineries, one with processing capacity of 180,000 barrels a day in Heze in Shandong province and another of 60,000 barrels a day in Lianyungang in Jiangsu province, both in eastern China. It will seek to buy a variety of crudes next year and can take delivery from Very Large Crude Carriers at Rizhao port via a pipeline connected to the Heze plant.

Panjin North Asphalt Co.
The asphalt producer plans to import 7 million tons of crude in 2016, also utilizing all of its quota, compared with 3 million tons in the past year, according to Tang Ke, deputy general manager. The company's 170,700 barrel-a-day refinery in northern China's Liaoning province may buy heavy grades to maximize asphalt output, and can take delivery from VLCCs at Dalian port.
Baota Petrochemical Group
It plans to import 6.1 million tons in 2016 for its 150,600 barrel-a-day refinery, the full amount under its license, compared with about 2 million tons last year, Vice President Zhang Fajun said. The plant in northwestern Ningxia province prefers crude from Russia and Central Asia because those supplies take less time to ship, Zhang said.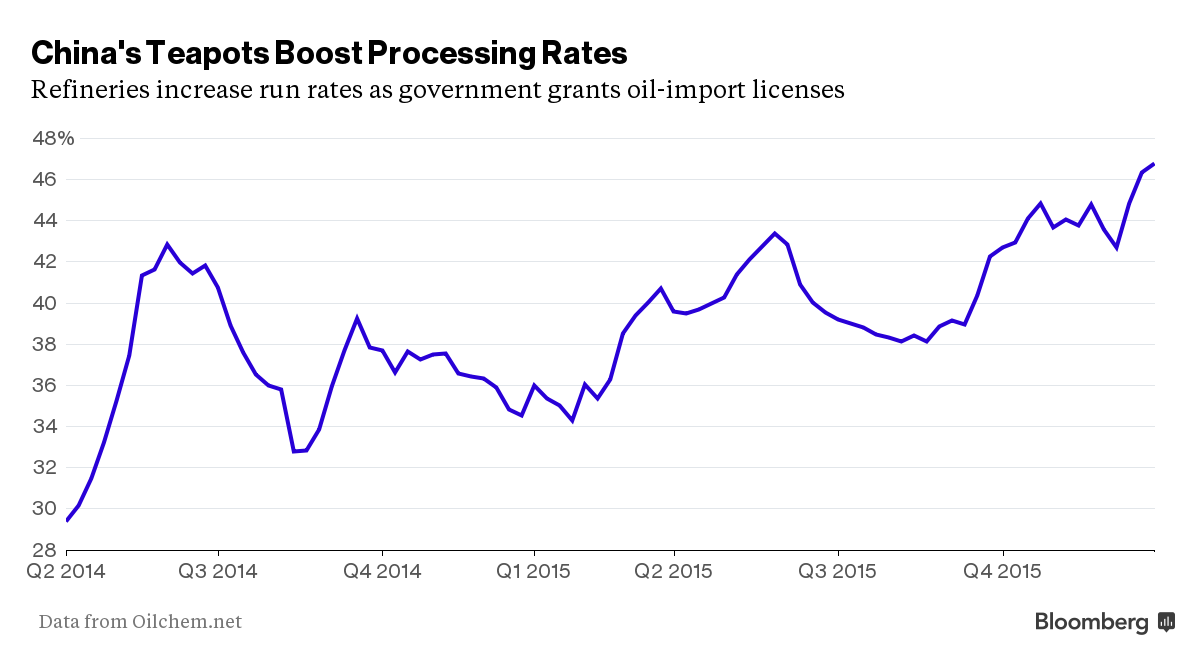 Chambroad Holding Co.
It may buy about 3 million tons from overseas in 2016, according to an official. It didn't take delivery of any imported crude last year, he said, asking not to be identified because of internal policy. Chambroad plans to get heavy grades via ships with capacity of 100,000 tons each to the Longkou and Huangdao ports, and then transport supplies via trucks to its refinery.
Sinochem Hongrun Petrochemical Corp.
The company plans to import 5.3 million tons in 2016, its full quota, according to an official. That's "much more than it imported in 2016," Zhang Zhaohui, an operations manager at Sinochem Hongrun, said. Its 115,000 barrel-a-day refinery at Weifang can process various crudes, and the company can take delivery via VLCCs at Qingdao port.
Shandong Kengli Petrochemical Group and Shandong Huifeng Petrochemical Corp.
Kengli's 60,200 barrel-a-day refinery plans to import 2.52 million tons in 2016, a company official said. The Shandong plant, which imported less than 1 million tons in 2015, can refine either heavy or light grades, the official said, asking not to be identified because of internal policy. Shandong Huifeng's 116,500 barrel-a-day plant may import 4.1 million tons in 2016, compared with about 500,000 tons last year, according to a refinery official who also asked not to be named.
— With assistance by Sarah Chen, Serene Cheong, Winnie Zhu, and Jing Yang
Before it's here, it's on the Bloomberg Terminal.
LEARN MORE