Lincoln Reaches for '60s Hipster Aura With Revived Continental
By
Broad-shouldered flagship sedan draws on `Kennedy Lincoln'

Ford CEO says luxury brand's Town Car image is 'melting away'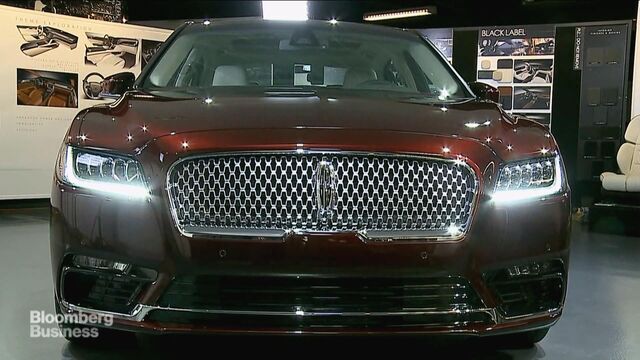 Ford Motor Co.'s efforts to be taken seriously as a luxury-car maker get their biggest test with this year's revival of the Lincoln Continental, a broad-shoulder boulevard cruiser that draws on the brand's Rat Pack hip days of a half-century ago.
After the car wowed crowds last year as a concept in New York -- and drew accusations of plagiarism from a Bentley designer -- Ford on Tuesday at the Detroit auto show unveils the real-world version of the Continental that reaches showrooms in fall 2016. The exterior remains mostly intact from the show car, even if the highflying interior was tamed by removing the Champagne chiller and deep-pile shearling wool carpeting.
Ford Chief Executive Officer Mark Fields said Lincoln, after a 7.1 percent U.S. sales increase last year, is ready to take on the likes of the Audi A6, BMW 5 Series and Mercedes E-Class with the Continental. At a price likely to be more than $50,000, the Continental isn't going to be Lincoln's top seller. But it carries the hopes of the brand to emerge from decades of decline and become a legitimate player in the most profitable segment of the car business.

"Seven years ago, Lincoln was viewed as the Town Car company, the black car with the boulevard ride that you take to the airport," Fields said in an interview in Lincoln's design studio in Dearborn, Michigan, last week. "More and more, that is melting away. We are getting ourselves on that mountain ride up."
The climb is steep. Even with 101,227 sales last year -- the most since 2008 -- Lincoln remains eighth among luxury lines in the U.S. and is outsold more than 3-to-1 by Mercedes-Benz, the BMW brand and Toyota Motor Corp.'s Lexus. Its key domestic competitor, General Motors Co.'s Cadillac, outsold it by 74,040 vehicles last year.

"Re-establishing Lincoln as a world-class luxury nameplate won't happen overnight, though it will happen if Ford continues to invest in the brand with stunning results like this new Continental," Karl Brauer, a senior analyst at Kelley Blue Book, said in an e-mail. "Even in the face of rising SUV demand, a serious luxury division needs a serious luxury sedan. The Continental fills that role for Lincoln."
'Storied Past'
The new Continental is meant to evoke the finger-snapping, laid-back cool of its 1961 forefather, known as the "Kennedy Lincoln" because it was favored by President John F. Kennedy and celebrities such as Frank Sinatra and Marilyn Monroe.
"It's a nameplate that has a storied past and that means a lot," Fields said.
Though all of Lincoln's sales growth last year came from sport utility vehicles such as the large Navigator, the brand isn't drawing on its late-1990s popularity with hip-hop stars like Sean "Puff Daddy" Combs, who helped make it the top-selling luxury brand in the U.S. by vehicle registrations in 1998.
"Instead of Puff Daddy, think of Matthew McConaughey," Fields said of the actor who has appeared in moody commercials for Lincoln that have been widely parodied, but also helped the brand find shoppers who are younger, richer and better educated, according to Kelley Blue Book. "Cool, yet relaxed, kind of serene."
Fields declined to say whether McConaughey will appear in ads for the new Continental. He said that Lincoln's comeback is "a journey" that's only four years old and that he's pleased with the results so far.
"We have lots of opportunity in front of us," the CEO said.
Eyeing China
The immediate challenge is converting the Continental's auto-show buzz into showroom sales. The car comes with a back seat aimed at wealthy Chinese buyers who prefer to be chauffeured. It has reclining, massaging seats, with comfort and infotainment controls within easy reach.
In its first year in China, Lincoln sold more than 11,000 models, which Fields called the fastest start for a luxury-car brand there "in recent history." He has said China could become Lincoln's largest market, eclipsing the U.S. China, already the world's biggest auto market, is poised to lead in global luxury-car sales by 2020, Fields said.
"It's different in the U.S. than in China," Kumar Galhotra, head of Lincoln, said of the brand's standing. "In China, our heritage plays very strong. Our favorable opinion in China is actually ahead of Lexus and on the factor of prestige, we're actually ahead of Audi."
The sedan is Lincoln's fourth new model in the past four years and a key part of a $2.5 billion overhaul of the brand that Fields began championing before he was promoted to CEO in July 2014.
'New Face'
The Continental's gaping grille is "the new face of Lincoln," Fields said, and is being affixed to the MKZ sedan and future models. The Continental is trimmed in broad swaths of bright chrome and has a silhouette that sweeps back to sleek LED taillights.
Approaching the Continental with the key causes the car to light up inside and out, displaying a glowing Lincoln logo on the ground beneath the driver's door. E-shaped door handles subtly protrude from a chrome strip along the side of the sedan and open the door with a slight touch on a soft button.
Lincoln will offer an optional twin-turbo, 400-horsepower V-6 engine not available on Ford models, the company said. The Continental also comes with safety technology such as pedestrian detection and pre-collision assistance that automatically brakes the car to avoid a crash.
Fields said finding the right look for a new Lincoln flagship proved elusive until he told the designers that the company would bring back the Continental name. Ford discontinued the nameplate in 2002, after decades of downsizing and reduced content had stripped the car of its elegance and appeal.
"When we were originally going through the initial design themes, the teams were struggling," Fields said of the development of the replacement for the slow-selling MKS sedan. "To everything they showed us in the design dome, our favorite answer was 'not good enough.'
"Then we marched into one meeting and said, 'You know what, we're going to call this the Continental.' And literally" -- Fields snaps his fingers -- "a month later, this came back."