In Rush to Exit Yuan, China Traders Buy Sinking Hong Kong Stocks
by
Chinese investors add 23.7 billion yuan of the city's equities

HSBC, ICBC most-traded Hong Kong stocks via link in December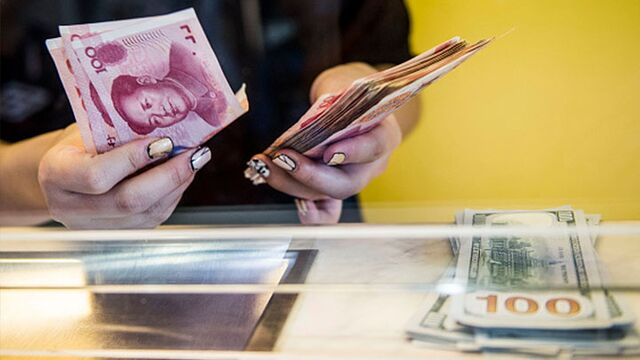 Chinese investors are so desperate to shift their money out of yuan-denominated assets that they're piling into some of the world's worst-performing stocks.
Mainland buyers purchased Hong Kong shares through the Shanghai stock link for a 10th week last week, even as the Hang Seng Index tumbled 6.7 percent. Chinese traders held 112.5 billion yuan ($17.1 billion) of the city's equities by Monday, the most since the bourse program started in 2014, and up by 23.7 billion yuan since late October. With the yuan weakening, investors are looking for a way out, according to Reorient Group Ltd.

"By buying Hong Kong stocks, it's like buying the Hong Kong dollar," said Uwe Parpart, chief strategist at the brokerage. Mainland investors are expecting "further depreciation and when that's the case it's a good idea to get out. If you buy at a certain rate and then the yuan goes down, even when the stock market goes down, you may still be getting ahead in the game."
Hong Kong and mainland markets are at the epicenter of a global stock slump fueled by concern about China's sliding currency and economic management. The Hang Seng Index was down 9.2 percent this year through Monday, while a rout in Shanghai and Shenzhen wiped out more than $1.3 trillion in value. With forecasters expecting the yuan to weaken further against the dollar and restrictions on capital outflows whittling down investment options, the exchange link offers a government-sanctioned way for Chinese traders to own assets in a strengthening currency.
"Channels for outflows from mainland China are currently limited," said Cindy Chen, Hong Kong-based country head of securities services at Citigroup Inc. "I expect the flow to continue."
Sellers, Buyers
After selling off Hong Kong stocks during a market rout last summer, mainland investors turned net buyers through the Shanghai link in the first week of November. Last month marked the biggest inflow since April, when the Hang Seng China Enterprises Index soared 17 percent. HSBC Holdings Plc and Industrial & Commercial Bank of China Ltd. were the most popular stocks for mainland traders in December, data compiled by the Hong Kong bourse show.
While flows into China from global investors have outstripped money moving into Hong Kong from the mainland since the exchange link started in November 2014, the trend is reversing. Foreigners owned about 7 billion yuan more of Shanghai equities than what Chinese traders held in Hong Kong as of Monday, the narrowest gap on record.
The Hang Seng China Enterprises Index closed 0.8 percent lower on Tuesday, while the stock link's daily quota balance showed mainland investors were net buyers in the city. China stepped up its defense of the yuan, buying the currency in Hong Kong and sparking a record surge in the city's money-market rates to deter bearish speculators.
Equity Premium
Mainland investors may be switching to stocks in Hong Kong, known as H shares, because their Shanghai counterparts trade at a significant premium and are performing badly, Citigroup's Chen said. The Hang Seng China AH Premium Index, which measures the gap between prices of dual-listed companies, shows mainland shares are currently 40 percent more expensive.
The yuan is down 1.2 percent against the U.S. dollar this year, and analysts expect a further 1.9 percent depreciation to 6.7 a dollar by the end of 2016, according to forecasts tracked by Bloomberg. The Hong Kong dollar, the underlying currency for shares listed in the city, is pegged to the greenback. Mainland interest in Hong Kong stocks will probably continue as the yuan's depreciation is likely to keep going for some time, said Reorient's Parpart.
Downside Risk
Currency gains aren't enough to offset the downside risk in the city's shares, according to KGI Securities Co. analyst Ken Chen. H shares are more sensitive to fundamentals than mainland stocks, so will suffer more as China's growth slows, he said.
"Mainland funds are more interested in A shares because they know A shares much more clearly," said Shanghai-based Chen. "They know that China's economy won't perform well in the next three years. This will depress Hong Kong shares."
Hong Kong equities aren't immune to a weaker Chinese currency either. Because many companies listed in the city derive the bulk of their sales from China, a weaker yuan reduces the value of their profits when translated back into Hong Kong dollars.
The Hang Seng China Enterprises Index was down 12 percent this year through Monday, extending a 19 percent plunge in 2015. The Shanghai Composite Index slid 15 percent since Dec. 31 after capping a 9.4 percent advance last year.
Stemming Slide
China, in efforts to stem the yuan's slide, has introduced measures including a halt to offshore bank borrowing from the mainland through bond repurchases and a suspension of new applications under the Renminbi Qualified Domestic Institutional Investor program, which allows yuan from the mainland to be used to buy offshore securities denominated in the Chinese currency.
The exchange link program allows mainland investors to own as much as 250 billion yuan of Hong Kong shares, with a daily buying quota of 10.5 billion yuan. Foreign buyers can put 13 billion yuan a day into Shanghai equities, subject to a 300 billion yuan total cap. Because it's a closed-loop design -- Chinese investors get the proceeds in yuan when they sell Hong Kong shares -- purchases don't count toward an annual limit on moving money offshore, Citigroup said.
"It wouldn't be a surprise if some of those mainland investors are looking at Hong Kong from a currency perspective as a relative safe haven," given there's been a lot of negative commentary on the yuan's trajectory, said Ben Pedley, regional head of investment strategy for Asia at HSBC Private Bank in Hong Kong. "If they are of that belief, then it would certainly make sense in terms of their investment strategy."
Before it's here, it's on the Bloomberg Terminal.
LEARN MORE