Senate Blocks Federal Reserve Audit Proposal Backed by Paul
By
Kentucky Republican's bill would have removed Fed audit limits

Vote gave spotlight as senator seeks presidential nomination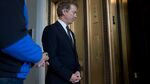 The Senate blocked legislation Tuesday that would have broadened audits of the U.S. Federal Reserve, a measure sponsored by Kentucky Republican Rand Paul as he seeks his party's presidential nomination.
Senators voted 53-44, with 60 required to advance. The measure was backed by Senate Majority Leader and fellow Kentucky Republican Mitch McConnell, who has endorsed Paul in the Republican primary. Among the bill's co-sponsors were Senators Ted Cruz of Texas and Marco Rubio of Florida, both also seeking the party's presidential nomination.
Opponents of the legislation said the bill could inject politics into the bank's work and threaten the bank's independence. Bill backers -- including Vermont independent Senator Bernie Sanders, who is seeking the Democratic presidential nomination -- sought more oversight of the Fed's operations.
"I simply want the Fed overseen to ensure that our central bank isn't picking favorites," Paul said on the Senate floor before the vote. "Auditing the Fed should not be a partisan issue."
Sanders and Wisconsin Democrat Tammy Baldwin were the only members of that party's caucus to vote with Republicans to advance the bill, while Senator Bob Corker of Tennessee was the sole Republican who joined Democrats opposing it.
The bill, S. 2232, would require a Government Accountability Office audit that could subject the Federal Open Market Committee's closed-door interest-rate setting deliberations to review. Under current law, such operations are off limits to congressional oversight.
'Grave Mistake'
Ohio Democrat Sherrod Brown said the bill would "give conservative members of Congress more tools to second-guess the Fed's decision making" and push it to focus more on curbing inflation than on fighting unemployment.
Fed Chair Janet Yellen said the Senate bill "would be a grave mistake, detrimental to the economy and the American people."
The bank's financial statements are audited annually, she said in a Jan. 8 letter to McConnell and Senate Minority Leader Harry Reid, a Nevada Democrat. The Senate bill "would instead permit the GAO to second-guess the Federal Reserve's monetary policy decisions and provide recommendations to the Congress for overturning the direction of monetary policy," Yellen said.
Iowa Caucuses
Tuesday's Senate action comes less than three weeks before the Feb. 1 Iowa caucuses, where Paul will compete with other Republicans in the race to be Republican presidential nominee. He has been polling in the mid-to-low single digits and is being excluded from the Republican prime-time debate Thursday on Fox Business Network.
Battles over transparency and accountability between the Fed and Congress intensified during the last decade's financial crisis when then-Chairman Ben S. Bernanke used Depression-era powers to rescue banks, brokerage firms, finance companies and insurers.
Bailouts of financial firms -- and the expansion of the Fed's balance sheet to $4.48 trillion from $863 billion in April 2007 when the subprime mortgage market began to fail -- stirred populist anger and raised suspicions of government favoritism.