Suicide Blast Kills 10 in Heart of Istanbul Tourist District
By and
President Erdogan tells diplomats suspect may come from Syria

Turkish government has been cracking down on militant groups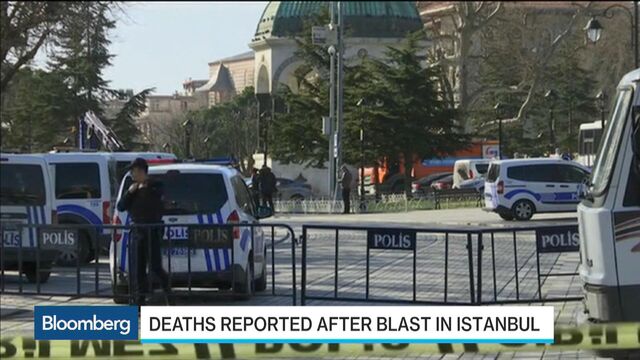 A suspected suicide bomb in Istanbul's main tourist district left 10 people dead and injured 15 more, highlighting deteriorating security in the Middle East's biggest economy as it faces a series of deadly attacks by Islamic State sympathizers and an insurgency by Kurdish militants.
The explosion on Tuesday morning took place outside key tourist attractions including the Blue Mosque and Hagia Sophia in the district of Sultanahmet, the symbolic heart of Istanbul's tourism industry. Police cordoned off much of the area as ambulance crews attended to victims, who included visitors from Germany, Russia, Norway, Peru and South Korea, according to media reports.
While there was no immediate claim of responsibility, the attack may have been carried out by a suicide bomber from Syria, President Recep Tayyip Erdogan told Turkish diplomats in Ankara. The bombing follows twin blasts in the capital Ankara that killed 102 people in October, an attack blamed on Islamic State. The group occupies large swathes of territory in Iraq and Syria close to Turkey's southeastern border.
"Turkey is facing an ever-growing terrorism threat in its fight against Islamic State, which appears to be behind the attack in Istanbul," Oytun Orhan, an analyst at the Center for Middle Eastern Strategic Studies in Ankara, said by phone on Tuesday. Such attacks are an "inevitable price" for Turkey's more active role in the international coalition fighting the militant group, he said.
Detentions
The blast follows a similar attack in the same area almost exactly a year ago, in which a female suicide bomber killed a police officer. Istanbul, some 600 miles from the border with Syria, is Turkey's biggest city and commercial capital, with a population of more than 14 million.
Turkish police detained 16 Islamic State suspects in Ankara and surrounding towns accused of gathering intelligence for attacks in Turkey, the state-run Anadolu Agency reported on Tuesday.
In addition to Islamic State, Turkey has been cracking down on autonomy-seeking Kurdish militants including the PKK. A PKK affiliate calling itself the Kurdistan Freedom Falcons said last month that it would step up attacks in Turkey.
Still, targeting tourists would be a departure from the usual tactics of the PKK, which has sought to avoid actions that could undermine its sources of foreign funding and political support, Tim Ash, head of emerging-market strategy at Nomura in London, said in an e-mail.
Translation: Istanbul Sultanahmet Square, where the explosion occurred. Firefighters and police teams were sent to the region.
Tourism Impact
Sultanahmet Square is on the site of an ancient hippodrome and the old center of power of the Ottoman Empire. The area is home to a collection of monuments that appear on UNESCO's World Heritage List and are crucial to the country's tourism industry, which official data show accounted for about 4 percent of gross domestic product in 2014.
Istanbul is the fifth-most visited city in the world, according to the 2015 Mastercard Global Destination Cities Index.
Following the blast, Germany's Foreign Ministry issued an advisory for visitors to Turkey, saying they should avoid crowded areas including public squares near tourist attractions. U.K. Foreign Secretary Philip Hammond told parliament the government is still verifying whether British nationals were caught up in the attack.
Financial markets recovered from losses in the immediate aftermath of the explosion. The lira was little changed at 3.0363 per dollar at 2:28 p.m. in Istanbul, erasing a decline of as much as 0.4 percent. The Borsa Istanbul 100 Index climbed 0.5 percent, having fallen as much as 0.8 percent in earlier trading.