Democrats' Union Money Threatened by U.S. Supreme Court Case
by and
Justices weighing whether public-sector workers must pay fees

Ruling could force unions to adapt in response to lost funds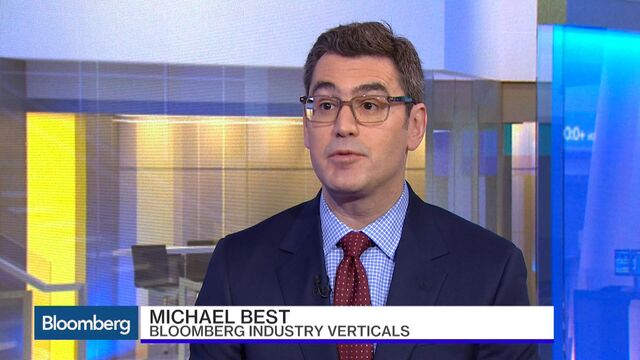 A U.S. Supreme Court decision on whether public-sector workers must pay union fees threatens to slow a campaign finance machine that pumped out more than $1 billion into elections, mostly for Democrats running for everything from school board to the White House.
The court's conservative wing cast doubt during arguments Monday about requirements that non-union employees pay for representation in collective bargaining. Union advocates and Democratic strategists said a decision against unions in the case brought by California teachers could cause them to stockpile money they otherwise would spend on 2016 elections. Longer term, it could curtail their political activity and force them to replace lost revenue.
"This decision has the capacity to upset the apple cart that's been in place for at least 40 years," said Steve Rosenthal, a former political director of the AFL-CIO in Washington.
California teachers say their First Amendment rights are violated by having to contribute to the unions representing them. The unions, California Attorney General Kamala Harris and the Obama administration say workers who aren't part of a union still benefit from negotiated benefits and that the Supreme Court has long given public employers latitude to manage their work forces.
While the case affects only fees paid for bargaining, anything that undermines a union's budget and membership can reduce its political resources, Rosenthal said.
Downward Slide
Labor in both the public and private spheres has been under siege in recent years.
Membership declined to 11.1 percent of the work force in 2014 from 20.1 percent in 1983, according to the U.S. Census Bureau, as Republican-led efforts chipped at unions' ability to attract and keep members. Half the U.S. states have passed so-called right-to-work laws banning requirements that employees pay union dues.
The union membership rate for public-sector workers, last year at 35.7 percent, was more than five times the rate for private employees, even as states including Wisconsin under Republican Governor Scott Walker restricted their collective-bargaining rights. Now the Supreme Court case threatens to affect as many as 5 million workers in 20 states.
Public-sector unions have long been prolific spenders on elections, with three of the top six donors to federal campaigns since 1989 coming from their ranks, according to the Center for Responsive Politics, a nonpartisan group that tracks contributions.
The American Federation of State, County and Municipal Employees, the National Education Association and the American Federation of Teachers combined to give $259 million to federal candidates and committees over that period. Some 98 percent of their contributions went to Democrats.
Public sector unions have been even more prolific at the state and local level. The National Institute on Money in State Politics, which tracks political giving at all levels of government, found that they contributed $1.1 billion between 1998 and 2014 to everything from gubernatorial candidates to school board members. About $483 million of that money was spent on ballot measures and about $625 million as direct contributions to candidates or parties.
Public-sector unions have also helped fund super-PACs, the outside organizations that, since the Supreme Court's 2010 decision in the Citizens United case, can raise funds in unlimited amounts from individuals, corporations and unions. They've given $69.5 million to super-PACs that support Democrats.
Trenton Jeremiad
Critics say that money skews the playing field against taxpayers.
Chris Christie, the Republican New Jersey governor running for president, singled out the New Jersey Education Association, the state's largest teachers' union, for $30 million in donations to Democratic campaigns and political-action committees over two years. The Democrat-led legislature in his state is pushing for a mandate to prioritize public-pension payments, a proposal that Christie said would "savage" residents and require a 23 percent income-tax increase to raise $3 billion.
"Are we supposed to believe those donations and your vote to make them the only constitutionally protected recipients of taxpayer money in New Jersey are not connected?" Christie told lawmakers in Trenton on Tuesday. "Thirty million dollars from the NJEA for you, in return for $3 billion in tax increases for all New Jerseyans. What a deal."
A Supreme Court ruling against the unions could cause delays in contributions in presidential or state races in anticipation of other more competitive campaigns later, said Michael Fraioli, a Democratic consultant in Washington.
The impact likely would be seen most in Republican-controlled states; California and others led by Democrats could change laws or find other ways to compensate, said Chris Lehane, a Democratic consultant in San Francisco who worked for former President Bill Clinton. Union foes seeking to capitalize on the ruling also could overreach, helping bolster unions, he said.
"Any time that one party sees a significant part of its base being impacted, there's always going to be a cause of concern," Lehane said. "That said, I also continue to think that the history of these types of situations is that you adapt pretty quickly."
Just as advocates for right-to-work laws say effective unions will continue to enjoy support, public-sector employees generally understand the value that their union provides, said Steve McMahon, a Democratic strategist in Washington.
"It's easy to say the sky is falling, but in fact, I have more confidence in the unions' ability to navigate whatever the challenges are than perhaps others do," McMahon said.
Still, Democrats tend to underestimate the financial and grassroots support that public-sector unions provide, Rosenthal said.
"You don't miss your water until the well runs dry," he said. "I have a feeling that the Democratic and progressive community doesn't fully understand the potential impact."
Before it's here, it's on the Bloomberg Terminal.
LEARN MORE