Corporate-Credit Outlook at Worst Since Crisis, S&P Says
by
Possible downgrades exceed upgrades by most since 2009

Latin America at greatest risk because of commodities slump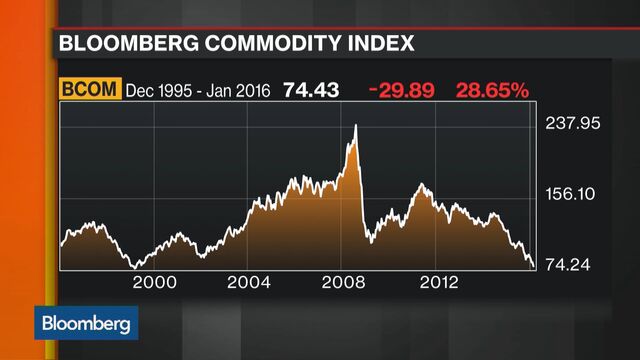 The outlook for corporate borrowers worldwide is the worst since the global financial crisis, according to Standard & Poor's.
Potential downgrades at the ratings company exceed possible upgrades by the most since 2009, in percentage terms, according to a Jan. 11 report. The difference widened the most since the financial crisis in the past six months, S&P said.
The corporate-debt outlook has darkened, particularly in Latin America, because of slower growth in China and a commodity rout that's cut prices to the lowest since at least 1991. Company defaults have already risen to the highest since 2009 and investors are demanding the biggest yield in four years to hold junk bonds.
There may be "significantly" more ratings downgrades than upgrades in 2016, S&P analysts led by Melbourne-based Terry Chan wrote in the report.
S&P is considering cutting ratings at 17 percent of the companies it covers, as of December, the report said. That compares with possible upgrades for 6 percent of issuers. The 11 percentage-point gap is more than double the difference in June 2014, the report said.
Latin America
On a regional basis, Latin America had the biggest gap, with possible downgrades exceeding potential upgrades by about 35 percentage points. For the Asia-Pacific region, North America and western Europe, the gaps were about 10 percentage points.
Latin American issuers are at risk of downgrades because of Brazil's deteriorating economy and the commodities slump, the report said. Miners and energy companies face "receding cash flows on the back of falling prices," it said.
Globally, there has been an increase in lower-rated new issuers, S&P said. That has helped drive up the percentage of companies rated B to 35 percent from 28 percent a decade ago. The rating, the most common at S&P, is five steps below investment grade.
The average yield worldwide for corporate junk bonds has surged to 8.7 percent from 6.3 percent in May, according to a Bank of America Merrill Lynch index data.
Before it's here, it's on the Bloomberg Terminal.
LEARN MORE