China Carmakers Post Rebound in Market Share With Cheap Minivans
Bloomberg News
Local brand minivans dominated domestic market last year

Buick GL8, Honda Jade only foreign brands among top 10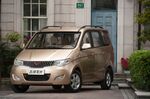 Chinese auto brands increased their share of domestic sales for the first time in five years, helped in part by dominating the small but growing market for minivans. A relaxation of the one-child policy may further boost demand.
Local brands accounted for about nine in 10 minivans sold in China last year, boosting deliveries by 14 percent to 1.87 million units, according to the China Association of Automobile Manufacturers. Eight of the best-selling models are Chinese, with Buick and Honda the only two foreign brands represented in the top 10.
Traditionally regarded by Chinese city dwellers as a vehicle popular in rural areas for doubling up as transportation for grain and goods, the minivan has begun to shake off its dowdy image and gained recent popularity with seven-seaters aimed at extended urban families.
"Demand for minivans will rise further with the relaxation of the one-child policy," Wu Shaoming, secretary general of the auto association, said in a briefing in Beijing Tuesday. "Motorists need to carry a lot of stuff for babies and minivans will better suit their needs for space. And it is a moving home as well. People can sleep in those kind of vehicles."

Foreign and local brands occupy opposite ends of the price spectrum for minivans.
General Motors Co.'s Buick GL8, which is marketed as a ride for business executives in China, starts from 209,000 yuan ($31,000), while Honda Motor Co's Jade costs from 118,000 yuan. That compares with the 39,800 yuan for the base model of the Wuling Hongguang, the top-selling minivan in the country last year.
GM, though, still indirectly benefits. The Wuling Hongguang is made by the SAIC-GM-Wuling joint venture in which the U.S. carmaker owns a stake.
Honda's joint venture with Dongfeng Motor Corp. started sales of a new seven-seater Elysion minivan this month at a starting price of 249,800 yuan. At the low end of the market, where the vehicles are popularly called "mian bao che" or bread loaf for their similarity in shape, Beiqi Foton Motor Co. kicked off sales of its Gratour MPV last week with a tag price as low as 48,900 yuan.
Minivan sales will probably rise by 8 percent to 2.28 million units this year, compared with a 5 percent decline in sedan deliveries, according to estimates by the auto association. Total vehicle sales, including buses, trucks and passenger autos, climbed 4.7 percent to 24.6 million units last year.
"Local companies have enlarged the minivan pie by adding cheap models," said Xu Yingbo, chief analyst with Citic Securities Co. in Beijing. "Their strategy will continue to work as foreign brands can't really risk getting into such a low-end market without diluting their brands."
— With assistance by Tian Ying
Before it's here, it's on the Bloomberg Terminal.
LEARN MORE