Charts Driving S&P 500 Drop With Buybacks on Hold, JPMorgan Says
by
Kolanovic says CTAs, trend followers are selling equities

He sees quiet alternativing with selloffs in 2016's market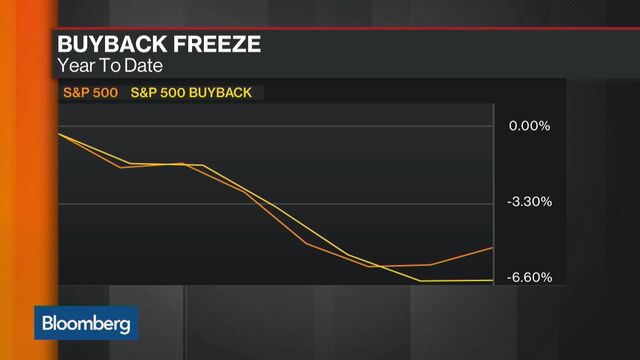 The selloff that has erased more than $1 trillion from U.S. stocks in 2016 is being worsened by quantitative traders influenced by charts, their impact amplified because of a blackout on share buybacks during earnings season, JPMorgan Chase & Co. analysts wrote.
Funds including commodity trading advisers, trend followers and users of volatility targets have been selling shares amid a drop in the Standard & Poor's 500 Index as last year's favorite strategy, buying momentum stocks, turns sour, according to Marko Kolanovic, the New York-based bank's head of global quantitative and derivative strategy.

"Much of the recent weakness in U.S. equities can be attributed to technicals with the selloff amplified by (1) the absence of synthetic demand for equities due to the buyback blackout period ahead of the earnings season," he wrote in a note to clients Tuesday.
Kolanovic's profile as a stock strategist rose in August after he attributed the summer selloff in equities to robot-like sell strategies pursued by funds that didn't care what prices shares traded at. He predicted Tuesday's note that "periods of quiet market followed by periods of abrupt selloff like the one we are witnessing" now will be the rule in 2016.
Volatility has erupted anew in financial markets in 2016 as a fresh year brought jarring swings, anxiety about global growth and the worst start on record for equities both in the U.S. and the world. The S&P 500 tumbled 6 percent last week, the biggest weekly drop since September 2011. Even a blockbuster jobs report on Friday that bolstered optimism in the world's largest economy wasn't enough to arrest the freefall.
Losses to start the year have derailed trading in momentum stocks, defined as the ones showing the biggest gains in the last six to 12 months. The strategy returned 32 percent in 2015, according to data compiled by Evercore ISI and Bloomberg. That beat the next-best quantitative category, high earnings and sales growth, by 10 percentage points. The Powershares DWA Momentum Portfolio, and exchange-traded fund, has decreased 6.3 percent in 2016, exceeding the S&P 500's year-to-date loss of 5.8 percent.
"It is prudent to at least reduce exposure to expensive momentum stocks," Kolanovic wrote, as "crowded positions and already extreme valuations" make them less attractive. He suggests rotating into "more reasonable valuation" shares.
One potential target is energy shares, the worst performing group in the S&P 500 for two straight years and already down 10 percent in 2016. Kolanovic sees them finding a market bottom once crude oil starts to recover from a rout that has left oil prices at 12-year lows. That will happen in the second half of the year on lower non-OPEC supply and stronger demand, he wrote.
"We are becoming increasingly uneasy with the crowded short consensus and one-way directional move for the sector," wrote Kolanovic. "We see it largely linked to the crowded macro momentum trade that faces rising risk of reversal."
Kolanovic attracted the attention of money managers in August with a pair of prescient market calls. Two days after the S&P 500 completed an 11 percent correction, he singled out quantitative funds as "price insensitive" and correctly predicted further drops for equities. He followed that up on Sept. 3, when he warned that quantitative investment funds weren't done selling. The S&P 500 dropped 1.5 percent the next day.
Before it's here, it's on the Bloomberg Terminal.
LEARN MORE