Canada Bank CEOs Say More Poloz Rate Cuts Would Hurt Margins
by and
Bank of Canada meets next week to determine interest rates

CIBC's Dodig, TD's Masrani speaking at banking conference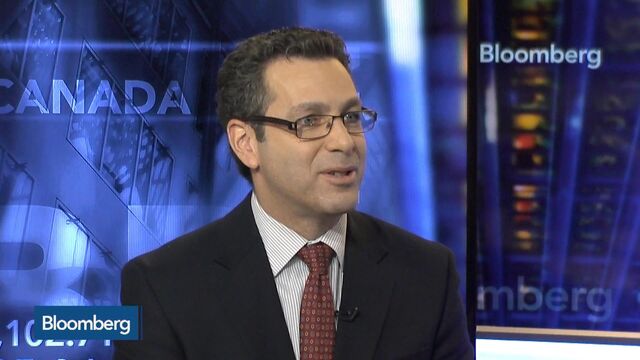 A Bank of Canada interest-rate cut next week threatens to take a toll on lending margins, executives at two of the country's biggest financial institutions said.
Victor Dodig, chief executive at Canadian Imperial Bank of Commerce, and Toronto-Dominion Bank's Bharat Masrani warned interest rates falling to record lows may compress their net interest margins, referring to the difference between what a bank pays for deposits and charges for loans.
"I don't think we need a rate cut," Dodig said Tuesday at a banking conference in Toronto. "As it gets closer to zero it becomes more challenging, and it will have more of a deteriorating effect" on margins, he said.
Speculation is mounting that a fragile economy will force Bank of Canada Governor Stephen Poloz to cut interest rates again, possibly next week, after two reductions in 2015. The comments from Dodig and Masrani illustrate how the debate on stimulus is turning toward possible side effects, as indicators continue to highlight how damage from a drop in crude prices is widening beyond the oil patch, leading economists to say further action now is justified.
"Obviously rate cuts don't help" earnings, Masrani said. "A lot depends on market reaction to it, how competitive reaction to it and we'll see how that plays out."
Other Tools
Poloz cut rates twice in 2015, to 0.5 percent from 1 percent, and the record low is 0.25 percent set in 2009. Poloz said last month he could deploy other tools if needed to deal with a fresh shock. Those tools include taking interest rates to negative 0.5 percent or using massive asset purchases known as quantitative easing.
Bank executives expressed concern about lower rates even as they agreed the slide in crude oil prices toward $30 a barrel represents a challenge for Canada, the Group of Seven's biggest crude exporter. Bank of Montreal CEO Bill Downe said Canada's economy will grow by as little as 1 percent this year and the outlook is "modestly gloomy."
Minority View
Credit Suisse analyst Axel Lang Tuesday joined other economists in saying the plunge in commodity prices means another rate cut is justified next week. Economists at Bank of America Merrill Lynch, Capital Economics, HSBC Bank Canada and Standard Chartered Bank are also calling for a quarter-point reduction next week. That's still a minority view with 18 of the 23 responses in a Bloomberg News survey calling for no change.
Cutting rates may also fuel price gains in a housing market already at risk in some cities from overvaluation. One of Canada's top bank regulators, Office of the Superintendent of Financial Institutions Deputy Superintendent Mark Zelmer, reiterated in a speech he will set tighter capital requirements to guard against a housing crash.
Poloz said at a speech last week there is still evidence the global economy is gaining momentum and that the positive forces from the commodity price drop are beginning to dominate Canada's economy, with the biggest being a boost to exporters from a falling Canadian dollar.
"The Bank of Canada can afford to be patient," Jimmy Jean, a strategist in the fixed-income group at Desjardins Capital Markets in Montreal, wrote in a note to clients Tuesday. Poloz will probably get some help later this year as the federal government brings in a budget with stimulus spending, he said.
The positive signals don't convince Lang at Credit Suisse. "The export sector is unlikely to be strong enough to outweigh the negative income shock that will continue to work its way through the economy in 2016," he said in a research note Tuesday.
National Bank of Canada CEO Louis Vachon said at the conference Bank of
Canada rate cuts as well as monetary policy and competitive pressures in the
past year have led to increases in net interest margins on loans that offset
"almost one-for-one the negative pressure on the deposits."
"For 2016, I would expect roughly the same thing, either flat or maybe losing
one beep per quarter in the current interest rate environment," Vachon said,
adding that the Montreal-based lender anticipates a continuation of trends seen
in 2015.
(Updates with executive comment on economy in eighth paragraph.)
Before it's here, it's on the Bloomberg Terminal.
LEARN MORE