Cameroon Sends Additional Troops to Eastern Border, Le Jour Says
by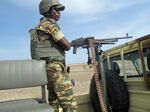 Cameroon is sending troops and attack helicopters to its eastern border with Central African Republic amid reports that rebels from the war-torn country have looted shops and kidnapped cattle farmers in Cameroon, Le Jour newspaper reported on Tuesday.
Cameroon's army will be deployed in the Mbere department, according to the Yaounde-based newspaper, citing military sources it didn't identify.
Before it's here, it's on the Bloomberg Terminal.
LEARN MORE