VW CEO Faces Crucial Meeting After California Board Rejects Fix
By and
Chairwoman: `VW made a decision to cheat on emissions tests'

Automaker turned down by state day before CEO meets with EPA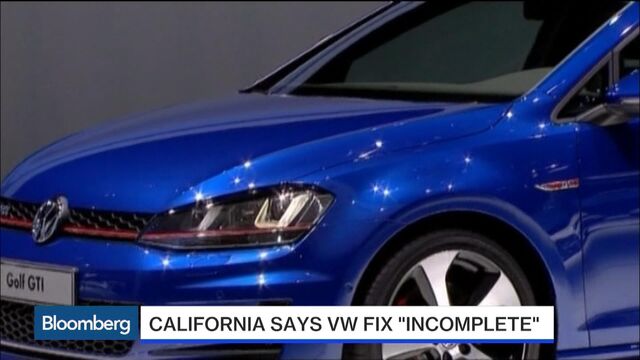 Volkswagen AG Chief Executive Officer Matthias Muellerfaces a crucial meeting Wednesday with U.S. regulators to discuss ways out of the emissions-cheating crisis, a day after the California Air Resources Board rejected its initial proposed engine fix.
California spurned the automaker's December recommendation for how to fix 2-liter diesel engines as "incomplete." VW said it will present a reworked plan to the U.S. Environmental Protection Agency at the meeting in Washington.

Europe's largest automaker is in the midst of complex technical talks with the California board and counterparts at the EPA about how to repair about 480,000 diesel cars. The EPA said Tuesday it agreed that VW's plan can't be approved. Volkswagen set aside 6.7 billion euros ($7.3 billion) in the third quarter to help pay for the crisis and has acknowledged this won't be enough.
"The message from the regulators to VW couldn't be more clear -- you need to come up with a better plan," said Frank O'Donnell, president of Clean Air Watch, a Washington environmental group. "VW has mistakenly thought it could resolve this on the cheap."
On its website, the state said it determined that there was "no easy and expeditious fix for the affected vehicles."
"Volkswagen made a decision to cheat on emissions tests and then tried to cover it up," Mary Nichols, chairwoman of the state board, said in an e-mailed statement. "They need to make it right."
Diesel Data
Volkswagen responded that it had asked California last month for an extension to submit additional information and data about the turbocharged direct injection, or TDI, diesel engines. "Since then, Volkswagen has had constructive discussions with CARB, including last week when we discussed a framework to remediate the TDI emissions issue," VW said in an e-mailed statement.
The shares rose 2.3 percent to 123.70 euros at 9:05 a.m. in Frankfurt. The company has lost more than 12 billion euros in market value since the scandal became public in September.
The California board said it and the EPA will continue to evaluate VW's technical proposals.
The rejection closely followed a bumble by CEO Mueller on Sunday, before the North American International Auto Show in Detroit. During an interview with National Public Radio, he appeared to dismiss the crisis by saying Europe's largest automaker "didn't lie" to regulators about what amounts to a "technical problem." When the interview aired Monday morning, VW asked NPR for a do-over, where Mueller blamed a noisy atmosphere for his earlier comments. He apologized on behalf of the automaker, hewing more closely to comments he had made in a Detroit speech on Sunday night.
EPA Meeting
Mueller is scheduled to meet with EPA chief Gina McCarthy and members of Congress Wednesday morning. On Monday evening, Mueller had dinner with Republican Senator Bob Corker of Tennessee. VW has a manufacturing plant in Chattanooga, which is undergoing a major expansion. Corker said VW views the meeting with EPA as "very important."
"They understand fully the order of magnitude of mistakes that have been made and my sense is they are very committed to resolving this in an appropriate way," Corker said in an interview Tuesday, before ARB announced it had rejected VW's recall plan.
Mueller met Tuesday with Representative Tim Murphy of Pennsylvania, the House Republican leading a congressional inquiry into the emissions cheating. Murphy, chairman of the Energy and Commerce Committee's investigations subcommittee, said that he urged Mueller to deliver documents that he said have been tied up by German privacy rules.
Detroit Appearance
"I made it clear I want those documents," Murphy said in an interview, adding that VW has already given the panel a lot of other information. He said he wants to find out what happened and make sure it's corrected.
Murphy said he's not pushing for a debilitating fine on Volkswagen.
"I don't think anybody wants to see the elimination of the company," he said.
The CEO's appearance in Detroit and in the nation's capital mark his first trip to the U.S. in his new role as CEO. Mueller, the former head of VW's Porsche sports-car unit, was named CEO in September after Martin Winterkorn was forced out as the "dieselgate" scandal erupted.
Fixes prescribed for Europe haven't translated into U.S. approval because of the tougher emissions standards in North America, which is why Volkswagen had begun cheating in the U.S. in the first place.
European Approval
In Europe, the company's proposed fix for 8.5 million diesel engines was approved a month ago. For most vehicles in Europe, software upgrades will suffice, while others will get a tube with mesh on one end to regulate air flow. VW estimated that repair would take less than an hour to complete. Germany took the lead on signing off on the technical proposal, which encompasses a range of engine sizes including the 2-liter variant now contested in the U.S.
In the U.S., beyond developing an effective repair for each of the three types of non-compliant 4-cylinder engines, VW must document any adverse impacts on vehicles and consumers. VW will also have to fix about 85,000 Volkswagen, Audi and Porsche 3-liter engines.
And because the emissions scandal centers on Volkswagen's use of a sophisticated "defeat device" to skirt regulations, any proposed remedy -- whether that's retrofitting cars with new parts or revising software codes -- will need to be tested by California and EPA technicians before the plan is rolled out to consumers.
Auto dealers and their customers need answers soon, said Mike Jackson, CEO of AutoNation Inc., the largest U.S. auto dealership group.
"A lot of patience has been extended, but ultimately we need answers," said Jackson, whose company has six VW stores. "We have customers asking us how their vehicles are going to be pulled into compliance, and the sand is running through the hourglass."