Nod of Approval
Brady Gun Control Group Endorses Clinton as She Battles Sanders
She's challenged her rival on the issue of whether gun manufacturers and sellers should be shielded from legal liability in court cases.
By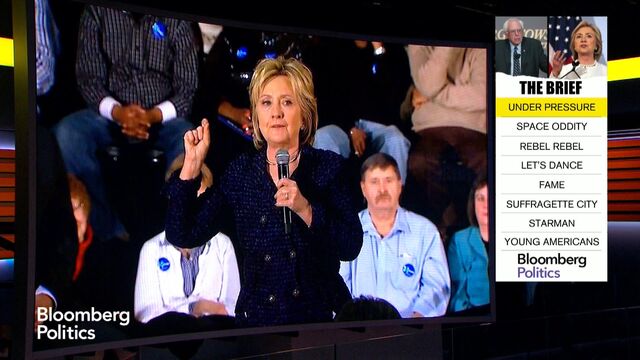 Democratic presidential candidate Hillary Clinton accepted the endorsement Tuesday of a major gun control group as she seeks to emphasize her differences on the issue with opponent Bernie Sanders.
"The American people have had enough and so has Hillary Clinton," said Dan Gross, president of the Brady Campaign to Prevent Gun Violence, as he announced the group's endorsement at an event with Clinton at Iowa State University in Ames. 
The former secretary of state has been questioning Sanders's record on guns for months and has been particularly focused on his 2005 vote in favor of the Protection of Lawful Commerce in Arms Act, which protects gun makers and sellers from legal liability.
As President Barack Obama turned his attention last week to gun policy, Clinton returned to the issue, noting that she and Obama have often been on one side of it while Sanders has been on the other. 
Gross pointed to Clinton's record—supporting the Brady Handgun Violence Prevention Act during her time as first lady and voting against the liability law while serving in the Senate—as driving the group's endorsement. 
When faced with votes on the Brady Bill in the House, "Bernie Sanders actually voted against it," Gross said. When the liability bill came up for a vote, "Bernie Sanders actually cast his vote to help pass it."
Sanders has said he voted in favor of the immunity law because he had businesses like small Vermont gun shops in mind. At the Iowa Brown and Black Forum on Monday, Sanders said twice that he had not made a mistake with his vote and added that "votes are complicated." He's also explained his votes against the Brady Bill by pointing to the rural nature of the state he represents.
"I come from a rural state, and the views on gun control in rural states are different than in urban states," Sanders said during the Oct. 13 Democratic presidential debate in Las Vegas. "Our job is to bring people together around strong, commonsense gun legislation." 
The Clinton campaign also has rolled out endorsements in recent days from three high-profile victims of gun violence: former Representative Gabrielle Giffords and her husband, Mark Kelly, and Sybrina Fulton, mother of Trayvon Martin.