Airbus Wins Order for Three A380s, Breaking Sales Drought
by and
Deal revealed in company data; buyer -- or buyers -- not named

European planemaker beats Boeing by overall plane sales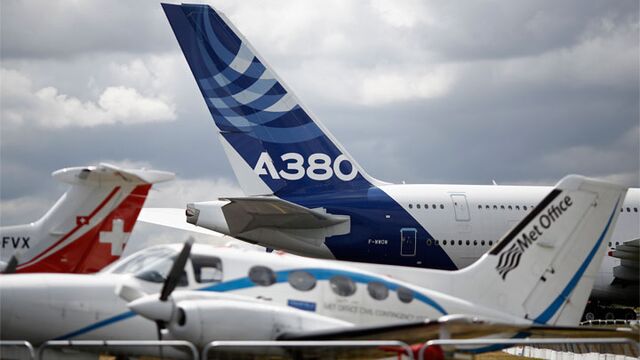 Airbus Group SE booked an order for three A380 superjumbo aircraft with a combined value of $1.28 billion at list prices, breaking a drought in sales of the world's biggest passenger jet.
The contract, revealed in year-end data on delivery and order tallies published Tuesday, was placed last month by a single, new customer, Airbus said.

While Fabrice Bregier, chief executive officer of the Toulouse, France-based company's planemaking arm, said the buyer "has asked to remain undisclosed," it seems likely to be All Nippon Airways Co., Japan's biggest airline, a person familiar with the plan said this month.
The new contract for Airbus's flagship is a vote of confidence in an aircraft that hadn't won a new airline customer in three years, with the manufacturer locked in discussions with No. 1 buyer Emirates of Dubai over whether it should upgrade the jet to extend its lifespan.
Airbus's 2015 data also reveals that it suffered a cancellation for one existing A380 contract, leaving it with two net orders for the year, still the lowest total in at least a decade. The planemaker delivered 27 double-deckers, so that that the backlog was depleted to 140 planes in the course of 2015.
"We're making progress in marketing the A380 to customers, but it's an aircraft that takes time," John Leahy, Airbus's sales chief, said in Paris, adding that orders are not simply a matter of seat economics and that the company is working with airlines to help them with the brand-positioning of the plane.
Airbus said it broke even on the superjumbos delivered last year, aided by lower production costs, meaning that the planes brought in more money than it spent making them. The company acknowledges that the overall A380 program is unlikely ever to show a profit on its $18 billion cost.
"For me, the A380 surprise is why we don't have more new customers," Bregier said. "My problem is why we can't convince more airlines fast enough to buy the A380, which is a mature aircraft and loved by the passengers."
Airbus comfortably trumped Boeing in overall orders across its model lineup in 2015, securing a net 1,036 compared with 768 at its U.S. rival, where the tally slumped 46 percent, according to a statement last week. Boeing remained the world's biggest planemaker, with 762 deliveries versus 635 at Airbus.

Bregier said on Bloomberg Television that Airbus isn't overly concerned about China's economy and that carriers in the country are still clamoring for aircraft, with the biggest challenge facing the company being the ramp-up of A350 wide-body production and introduction of the re-engined A320neo series.
ANA will take delivery of three A380s from 2018 for use on Tokyo-Hawaii services, a person said this month. The order could be increased should the planes prove effective and will form just a piece of a larger strategic plan, to be unveiled at the end of January, calling for fleet renewal, they said. Both ANA and Airbus declined to comment at the time.
The A380, which typically seats about 525 passengers, but can carry over 800 depending on the configuration, has suffered a decline in airline interest as carriers have come to favor somewhat smaller twin-aisle models, including Airbus's A350 and Boeing's 777.
In November at the Dubai Air Show, Airbus's Leahy said that two potential customers were considering orders for the superjumbo.
Before it's here, it's on the Bloomberg Terminal.
LEARN MORE