Zuma Says Rand's Response to Nene Dismissal Was an Overreaction
by
Rand sinks most since 2008 as traders fret on China, liquidity

South African 2026 bond yields rise to highest since Dec. 14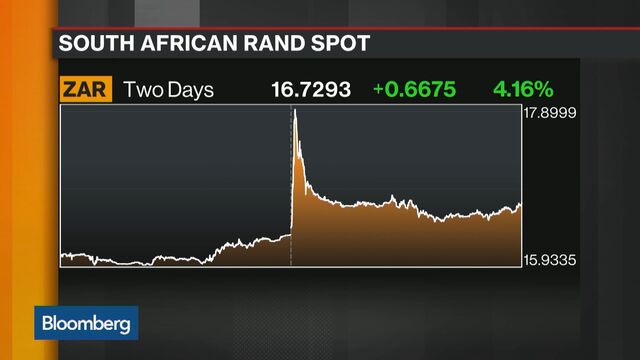 The removal of former Finance Minister Nhlanhla Nene in December didn't trigger the collapse of South Africa'scurrency, President Jacob Zuma said.
"The rand had been going down when Nene was there, it had been going down for months and months," Zuma said in an interview with Johannesburg-based eNCA. "It was not triggered by the decision."
The rand fell to what was then a record low against the dollar and the Johannesburg Stock Exchange lost 170 billion rand ($10.2 billion) in the two days after Zuma replaced Nene with little-known lawmaker David van Rooyen. Zuma days later replaced Van Rooyen with former Finance Minister Pravin Gordhan.
"I think people did not understand, I think that there was an exaggeration in terms of the reaction, there is no single person that can collapse a department, particularly a department like the Treasury," Zuma said. "There was an overreaction to the decision. It's not like breaking the economy."
The rand plummeted by the most in more than seven years on Monday as the market turmoil in China and a drop in U.S. stocks deterred risk-taking. The currency of Africa's second-largest economy weakened as much as 9 percent to an all-time low before trading 2.3 percent lower at 16.6803 per dollar as of 8:28 a.m. in Johannesburg.
Yields on South Africa's rand-denominated government bonds due in December 2026 climbed 36 basis points to 9.9 percent, the highest on a closing basis since Dec. 14.
Before it's here, it's on the Bloomberg Terminal.
LEARN MORE