VW's CEO to Meet With U.S. Lawmakers During Washington Visit
Billy House
Mueller's first visit to U.S. includes stop in Detroit

EPA chief also meeting with Mueller to discuss diesel recall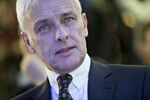 Volkswagen AG Chief Executive Officer Matthias Mueller is scheduled to discuss the automaker's diesel emissions scandal with U.S. lawmakers Wednesday, the same day he will meet with the head of the Environmental Protection Agency.
The lawmakers' lunch is being put together by the non-profit International Conservation Caucus Foundation, according to invitations sent out to some member offices. The Volkswagen Group of America is listed among the corporate partners of the foundation, which bills itself as non-partisan and as seeking to advance a new generation of conservation leaders in the U.S. Congress.
Other partners include Bumble Bee Foods LLC, Coca-Cola Co., Exxon Mobil Corp., HP Inc., International Paper Co., Nestlé SA, Unilever Plc, National Geographic and Nature Conservancy. Its website lists former Republican Representatives Rick Lazio of New York and Connie Mack of Florida, and actress Bo Derek, among its board members.
Among those planning to attend is Representative Betty McCollum of Minnesota, co-leader of the bipartisan International Conservation Caucus, said her chief of staff, Bill Harper. 
Foundation Sponsor
The foundation, not the member caucus, is sponsoring the lunch, Harper said. Foundation officials couldn't be reached for comment about how many members of Congress are being invited.
Other topics Mueller will address during the lunch will be job creation and developments in the Volkswagen "fleet," according to the invitation to members.
The German automaker admitted in September that it rigged the software of 482,000 diesel cars beginning in 2009 to pass U.S. emissions tests. When not being tested, the cars released pollution up to 40 times permitted levels.
Mueller was in Detroit Sunday and Monday for an auto show. The trip is Mueller's first official visit to the U.S. since assuming the top job at Volkswagen after his predecessor quit in the wake of the scandal.
Mueller told Bloomberg TV Monday that he has had a "constructive dialogue" with the EPA in recent weeks and hopes to reach agreement on how to fix the cars and structure a recall.
Before it's here, it's on the Bloomberg Terminal.
LEARN MORE