UBS Plans to Double Staff in China, CEO Ermotti Says
Bloomberg News
CEO plans bank's biggest push in China amid volatile markets

China remains `great opportunity,' Ermotti says in interview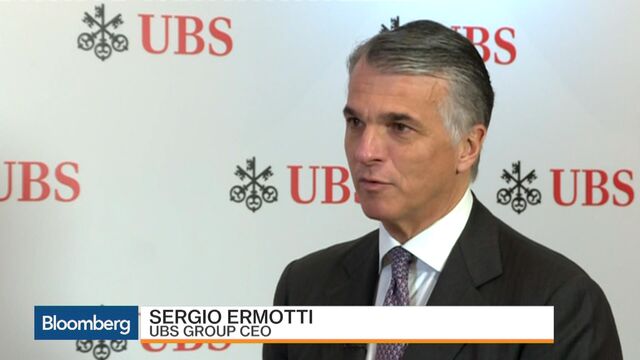 UBS Group AG will double its staff in China over five years, adding about 600 people as Chief Executive Officer Sergio Ermotti bets a time of volatile markets is as good as any for ramping up operations.
"China is not on its own with those challenges," Ermotti said in a interview with Bloomberg Television in Shanghai on Monday. "Those are also the good times to plan for the future, and that's the reason why we are starting to implement our strategic plan."
The staff increases will be across wealth management, investment banking, equities, fixed income and asset management, Ermotti said. Back-office operations will also figure.
UBS will start its biggest push in China against a backdrop of convulsions in the nation's equity and currency markets and as some competitors pare back Asian operations. Barclays Plc and Standard Chartered Plc are scaling back, while Deutsche Bank AG co-Chief Executive Officer John Cryan said last month that the region has "huge" competition for limited fees.
'Great Opportunity'
"China is a great opportunity like it has been for the last 20 years," Ermotti said, adding that it will be a "challenging" year globally. The Shanghai Composite Index slumped 5.3 percent on Monday, extending last week's 10 percent plunge.
UBS earned $81 million in fees underwriting domestic Chinese bonds and equities and advising on mergers and acquisitions last year, up 42 percent from 2014 and the biggest amount generated by the bank since 2012, according to Freeman & Co. UBS was the top non-Chinese bank for domestic investment banking for the first time since 2012, the New York-based research company estimates.
UBS ranked second in helping Chinese companies sell shares overseas last year, up from seventh in 2014, data compiled by Bloomberg show.
Full License
In 2006, the Zurich-based bank became the first foreign firm allowed to invest directly into a fully-licensed Chinese securities business, giving it a lead over rivals including Morgan Stanley and JPMorgan Chase & Co.
Currently, UBS is awaiting regulatory approval for a banking license in Shanghai, its head of Asia Pacific Kathryn Shih said in an interview Jan. 5. The bank already has a full bank license for Beijing, where it operates wealth management, she said.
UBS employed 7394 people in Asia Pacific as of the third quarter of last year, 12 percent of the global total. In July, Shih said the bank had about 100 employees in wealth management in China.
Financial firms have been rocked by a roller-coaster ride in Chinese markets, with mainland stocks soaring in the first half of 2015 before reversing so sharply that authorities intervened with support measures and investigations. The authorities are also wrestling with capital outflows and currency volatility as some investors try to profit from gaps between the onshore and offshore yuan rates.
— With assistance by Stephen Engle, and Cathy Chan
Before it's here, it's on the Bloomberg Terminal.
LEARN MORE