Photographer: Jason Alden/Bloomberg
Autos
The Seven Biggest Reveals on Tap for the Detroit Auto Show
Honda steers for the truck market and Lexus brings a sports car to steal the show.
by
The future will be at the Detroit Auto Show this week … or at least the very-near future. Executives in natty suits (and the occasional sweater) will unwrap a fleet of vehicles that will soon be in dealerships. We talked to a bunch of carmakers and auto analysts to see what the biggest reveals will be. These are the seven most exciting and most important rides in Detroit this week.

1. 2017 Honda Ridgeline
Honda, the brand that trounces Detroit with sedans and SUVs, is finally taking on Ford and General Motors in the truck game. Sure, Honda has made the Ridgeline pickup since 2005, but its pretty much made the same Ridgeline pickup since 2005. Now the company is promising a thorough overhaul and a midsize vehicle that will be far easier to park than an F-150 or a Silverado. Will truck buyers trust a Honda? If the Ridgeline is anything like the wildly successful CRV or Accord, the answer is "yes."

2. 2017 Ford Fusion
Ford's most recent Fusion, unveiled in 2012, was an unabashed hit. It looked like an Aston Martin and cemented the company as a leader in the intensely competitive midsize sedan class. But keeping up with Toyota's Camry isn't easy and the Fusion is due for a major overhaul. Some 275,000 Americans bought one of these cars last year, more than all but two other Ford models. Ford can afford to miss with this one, thanks to the success of its trucks, but a dud would be a fiscal drag.
3. 2017 Mercedes E-Class
If Mercedes was a casino, the E-Class sedan would be its blackjack tables. It is the hub around which the whole business is built, from the lower-level C-Class to the stately S-Class. As the luxury race heats up, Mercedes is pulling more of its fancy fittings down to the middle of its product lineup. The new E-Class will be stocked with much of the tech wizardry normally found on far more expensive Benzes, including dashboard controls that respond to a wave of the fingers. U.S. versions will also get a four-cylinder engine for the first time.

4. 2017 Lexus LC
Lexus has been tight-lipped about its plans for Detroit, but it has promised to bring a vehicle that will steal the show. That kind of swagger typically means a sports car. Meanwhile, Lexus designers have been hard at work on a big, sexy grand-touring coupe. The camouflaged version that has been snapped by car paparazzi is equal parts Batmobile and Bentley. Lexus hasn't really had a halo car since the last LFA screamed off the production line in 2012. That all changes this week.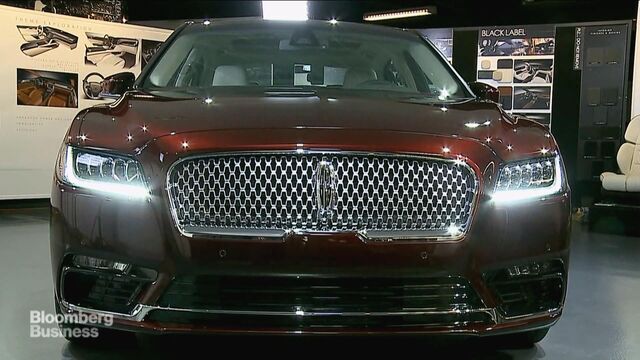 5. 2017 Lincoln Continental
Lincoln is no longer a punch line in Detroit. With its new MKC crossover and its Black Label concierge service 1 Which includes complimentary car washes and vehicle delivery. , the battered veteran has shown it can still make some big plays 2 U.S. drivers rolled out of dealerships with 101,227 Lincolns last year, a 7 percent increase over 2014. . Now it's hoping to bring life back to its mainstay luxury sedan. The Continental concept Lincoln showed in New York last year was an absolute stunner. Half of the car world said: "This thing is just for Chinese plutocrats." The other half said: "Who cares?" The production model that will be unveiled this week is expected to be just as stunning.

6. 2017 Volvo S90
Volvo is confidently zooming back to the future. With a slick new SUV in the XC90, the brand captured some of the boxy mojo it had in the 1980s and posted a 24 percent spike in U.S. sales last year. Now, Volvo is trying to spread some of that Swedish love to a new flagship sedan 3 A few folks in Sweden have been lucky enough to see this already. . The S90 will be the first car in the U.S. with semiautonomous steering as standard equipment, unless someone beats Volvo to the punch in the next few months. It will also be the first sedan in the country on which headlights shaped like the hammer of Thor come standard. So there's that.

7. 2017 GMC Acadia
Anyone who believes product planning in the auto industry is an exact science should take a good, long look at the current GMC Acadia. Despite being parked squarely in one of the car world's hottest segments, it is one of the oddest-looking vehicles on the road—as if a giant stretched a standard SUV by the ends. GMC, smartly, is squeezing the Acadia a bit for next year. The new version will ride on a smaller platform. In Detroit, they call this a midsize crossover. On Wall Street, they call it a money tree.
Watch this next: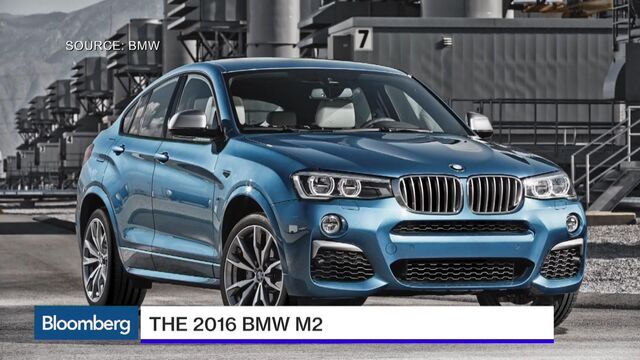 Before it's here, it's on the Bloomberg Terminal.
LEARN MORE