Suicide Attack Kills at Least 17 People at Baghdad Mall
by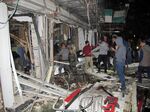 Suicide bombers and gunmen killed at least 17 people and briefly took hostages in an attack on a mall in the Iraqi capital, an especially brazen assault in a city used to militant violence. Islamic State claimed responsibility.
Attackers detonated a car bomb outside and suicide vests inside the building in the Baghdad Jadida neighborhood, police and Interior Ministry officials said by phone, adding that a child was among those killed. Twenty-one others were wounded before security forces ended the raid.
Though Baghdad has been spared the worst of the violence that has roiled Iraq since Islamic State swept through swaths of territory in 2014, the city has repeatedly been hit by car bombs and other militant attacks. Monday's strike, however, was unusual for its scale and style.
Baghdad Jadida, in the city's east, is a predominately Shiite commercial neighborhood, home to a market for used clothes and one of the main post offices in the capital.
Before it's here, it's on the Bloomberg Terminal.
LEARN MORE