Sotheby's Buys Contemporary Art Specialist to Bolster Sales
by
Auctioneer pays as much as $85 million for Art Agency Partners

Firm to pre-release earnings, opening share buyback door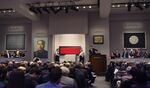 Sotheby's, the auctioneer of art and collectibles, acquired private-advisory firm Art Agency Partners for as much as $85 million to add muscle to its struggling contemporary art sales. Shares surged.
Art Agency Partners founders Amy Cappellazzo and Allan Schwartzman will become co-chairmen of a new fine art division that will initially focus on Impressionist, modern and contemporary works, Sotheby's said Monday in a statement. They will be responsible for private sales and the development of the advisory business within Sotheby's.
The purchase may help Sotheby's close the gap with U.K. auction house Christie's in modern, postwar and contemporary art, the market's most lucrative segments. Chief Executive Officer Tad Smith, who took the helm of the New York-based company on March 31, has made several top-level hires while cutting jobs through buyouts to reverse a 50 percent drop in the company's shares since March. 
Following the deal, Sotheby's said it plans to pre-announce its fourth-quarter results in coming weeks in order to buyback more shares.
We "expect management to be aggressive with buying back shares, especially given the current share price," Kristine Koerber, a senior analyst at Barrington Research, said in a report on Monday.
Shares rose 7.2 percent to $23.23 in New York on Monday, the most in almost four years. It was the second-best performer in the Standard & Poor's Midcap 400 Index.
Complicated Deals
The acquisition will bolster areas of business that are "imperative for Sotheby's growth," Smith said in the statement. "The principals maintain deep relationships with top collectors around the world, and are unsurpassed at executing the complicated financial transactions that are integral to today's art market."
With Art Agency Partners, Sotheby's gains new talent and business streams at the high end of the art market, including an investment fund. The firm was founded two years ago by Cappellazzo, a former deputy chairman of Christie's, and Schwartzman, an adviser known for helping wealthy individuals build museum-quality collections.
The firm's third partner, Adam Chinn, an art market newcomer whose background includes law and investment banking, will lead Sotheby's global deal-making efforts. Chinn replaces Mitchell Zuckerman, a Sotheby's veteran of 37 years who took a buyout and will become a consultant.
Sotheby's acquisition comes a month after it poached Marc Porter, chairman of Christie's Americas. Porter will also become a chairman in the new division with a focus on global business development once his non-compete agreement ends, Sotheby's said. Cappellazzo, Schwartzman and Chinn start immediately.
Trailing Rival
Sotheby's will pay $50 million in cash for the business, which has a staff of 15. As much as an additional $35 million will be paid during the next five years, tied to profit goals, the company said in a filing Monday. Sotheby's board of directors voted unanimously for the acquisition, Dennis Weibling, Sotheby's interim CFO, said during a call with investors on Monday.
It's a "relatively small" transaction and might make Sotheby's more interesting to a financial or strategic buyer one day, David Schick, an analyst at Stifel Financial Corp., wrote in a report Monday.
Before it's here, it's on the Bloomberg Terminal.
LEARN MORE