SocGen: If Earnings Multiples Normalize, Global Equities Would Be Cut in Half
by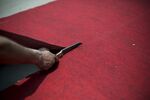 China isn't the cause of global equities' dismal start to 2016, says a bearish Société Générale strategist who is not Albert Edwards—it's merely the excuse.
The MSCI World Index slumped 6 percent in the first full trading week of 2016, with broad weakness around the world. Andrew Lapthorne, SocGen's global head of quantitative strategy, says stocks are plagued by deteriorating fundamentals: For years, they've become more expensive with little in the way of earnings growth.

Price-to-earnings multiples expanded as the worst of the financial crisis passed and monetary stimulus was deployed by the world's major central banks. With the Federal Reserve beginning to normalize policy, the risk is that valuations will head south.
"China and its accompanying devaluation is just another domino to fall, in what has been a long process of investor realization that all is not well in the global economy," he writes. "For us the real problem remains the lack of growth, a problem [quantitative easing] sought to disguise, but did not solve through higher asset prices."
In the event that the MSCI World Index's price-to-earnings ratio reverts to its 2011 level, this would entail a 50 percent drop in global equities, assuming profits remained steady.
Despite these early-year equity woes, pickings remain slim for stock investors, according to SocGen.
"This gap between equity price rises and actual profits means that despite recent price declines, obvious pockets of value are still quite rare," writes Lapthorne.
But based on the strategist's previous work, there might be reason to suspect U.S. equities could get a lift in the short term: The cheating earnings season is upon us.
Before it's here, it's on the Bloomberg Terminal.
LEARN MORE