Rand Has Flash Crash as China's Woes Trigger Drop of Up to 9%
By and
Risk aversion and lack of liquidity have hurt rand: Westpac

Plunge may boost South African interest rates: Standard Bank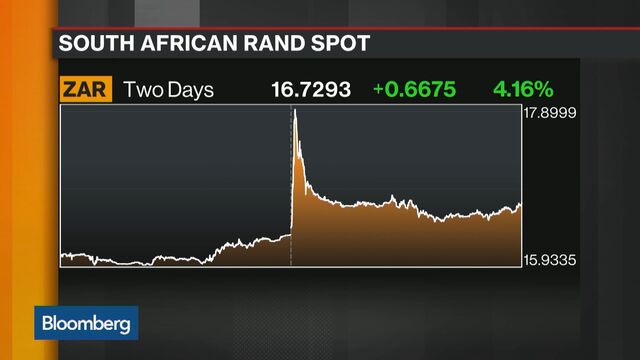 The South African rand plummeted by the most in more than seven years on Monday and bonds tumbled as market turmoil in China and a drop in U.S. stocks deterred risk-taking.
The rand plunged as much as 9 percent, the most since October 2008, to 17.9169 per dollar, before paring losses. It was 2.2 percent weaker at 16.6559 by 5:16 p.m. in Johannesburg, the biggest decline among 31 emerging-market and major currencies. One-month implied volatility surged 3.52 percentage points to 23.45 percent, suggesting options traders expect wider price swings in coming weeks.

The rand's slide on Monday probably came after "a combination of stops and margin calls caused mass capitulation" by Japanese retail investors, Gareth Berry, a foreign-exchange strategist at Macquarie Bank Ltd. in Singapore, wrote in a research note.
Risk Aversion
The South African currency, which dropped 25 percent last year, has been hurt by a slump in commodity prices, lackluster economic growth and rising U.S. interest rates. Losses in the rand accelerated in December after President Jacob Zuma unexpectedly fired his finance minister only to alter the decision days later, while the tumultuous start to the year in China has further damaged sentiment. South Africa sold 37 percent of its exports to China in 2014.
"The risk factors have increased since the happenings of December last year," Malcolm Charles, portfolio manager at Investec Asset Management, said by phone from Cape Town. "There's definitely more of a risk premium demanded for South African bonds and equities. The uncertainty of policy is definitely there."
South Africa's benchmark FTSE/JSE Africa All-Share Index earlier fell 1.3 percent to the lowest since Dec. 14, before trading nearly unchanged at 48,118.84. Yields on rand-denominated government bonds jumped 12 basis points to 9.67 percent.
"The huge spike in risk aversion last week, poor liquidity and position liquidation have hit the rand," said Robert Rennie, the global head of currency and commodity strategy at Westpac Banking Corp. in Sydney. The rand plunged to its all-time low shortly after midnight in Johannesburg. Data compiled by Bloomberg showed that offers to buy the rand against the dollar dried up around 7:04 a.m. Tokyo time.

China strengthened the yuan's reference rate slightly for a second day on Monday after an eight-day run of reductions that sent shock waves through financial markets, while swings in local asset prices have revived concern about the government's ability to manage an economy set to grow at the weakest pace since 1990.
Uncontrolled Descent
The rand may again test the 17.50 level per dollar and any rallies in the currency will be short lived as investors shun developing nations, Standard Bank Group Ltd. analysts including Walter de Wet and Shireen Darmalingam in Johannesburg, said in an e-mailed note. South Africa's current-account and budget deficits are likely to weigh on the currency and the rand's uncontrolled depreciation may cause the central bank to raise rates by 50 basis points at its monetary policy committee meeting later this month, they said.
"It is hard to see the rand pull back on a sustainable basis," the Standard Bank analysts said. "In recent weeks we have seen South Africa's real effective exchange rate fall sharply to levels last seen in 2001 and 2008. We note that in both 2001 and 2008, amid a rand slide, the South African Reserve Bank embarked on a fairly aggressive rate hiking cycle."